Video ads are one of the main sources of revenue for YouTube, placed at the beginning, middle, or end of videos. Although YouTube allows users to skip ads after a few seconds, too many frequent ad interruptions can greatly affect the viewing experience, especially for longer videos. So, is there any way to block YouTube ads?
Yes. YouTube has offered a way to solve this - if you want to remove the ads, subscribe to YouTube Premium. But when you stop the subscription, the ads will come up again. Based on this situation, do you know how to block ads on YouTube effectively without much cost? Here are 4 proven methods listed in the following for those who need a professional YouTube ad blocker to get ads-free videos for playing.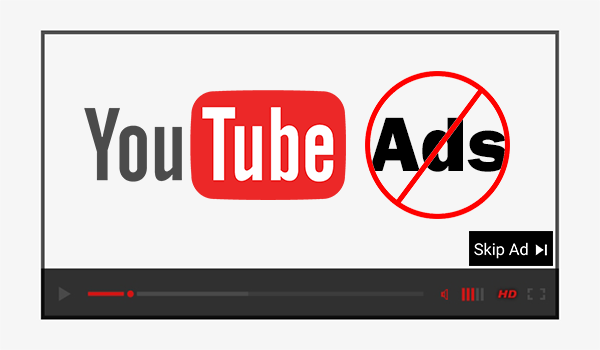 CONTENTMethod 1. Ultimate Way to Block Ads on YouTube without PremiumMethod 2. How to Block YouTube Ads with AdBlockMethod 3. How to Block Ads on YouTube with A VPNMethod 4. Block Ads with YouTube Premium DirectlyExtra Tips 1: How to Block Specific Ads on YouTube Extra Tips 2: How to Block Appearing Ads on My YouTube Channel and Videos
Method 1. Ultimate Way to Block Ads on YouTube without Premium
The first method is straightforward but extremely useful. To block YouTube ads permanently, you can directly download YouTube videos and playlists to your PC. Undoubtedly, this is the simplest way to remove YouTube ads from videos in one shot. Another benefit of this method is that you don't need to worry about how to solve some sudden YouTube playback errors as well. But the problem is, what is the reliable video downloader we can use to save YouTube videos offline with the best quality?
Here <strong>VideoHunter YouTube Downloader is recommended. Instead of serving as a YouTube ad block, VideoHunter YouTube Downloader is more like a YouTube ad Remover. It is able to convert YouTube videos to MP4 or other plain video formats. Once you've downloaded videos from YouTube, there are no ads at all in your downloaded files. Moreover, its output quality satisfies most people's needs - it is able to convert YouTube videos to 2K, 4K, and even 8K. If you want to get a high-quality viewing experience offline, VideoHunter deserves a try.
Tutorial on Using VideoHunter to Download YouTube Video
As a professional YouTube Downloader, VideoHunter requires no complicated operations to get high-quality videos from YouTube. For novices, you only need several simple steps to convert your favorite YouTube videos to MP4 with the quality you need offline, thus getting rid of the annoying YouTube ads.
STEP 1. Download VideoHunter from the official website on Windows/Mac. After installation is completed, launch the program and enter the main interface.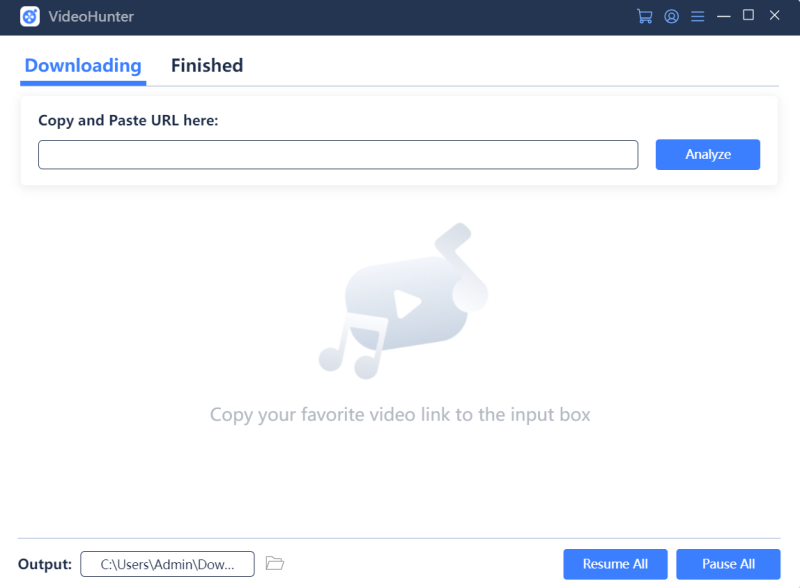 STEP 2. Now move to YouTube in your browser and select the YouTube video you want to download for getting rid of the annoying ads. You have to copy its URL.
STEP 3. In this step, turn back to the VideoHunter program, and then insert the video URL into its frame bar. Also, press the "Analyze" button beside the bar to start converting the YouTube video.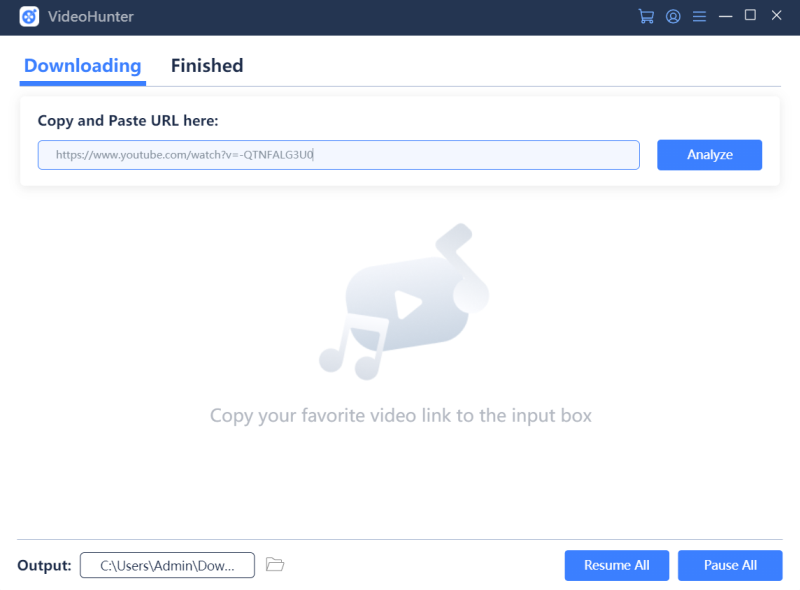 STEP 4. Just wait for a short time when VideoHunter generates some output choices for you, you can select an option you prefer and hit the "Download" icon below to start downloading YouTube 4K video. Then the ads can be removed and you and enjoy the ads-free YouTube video offline!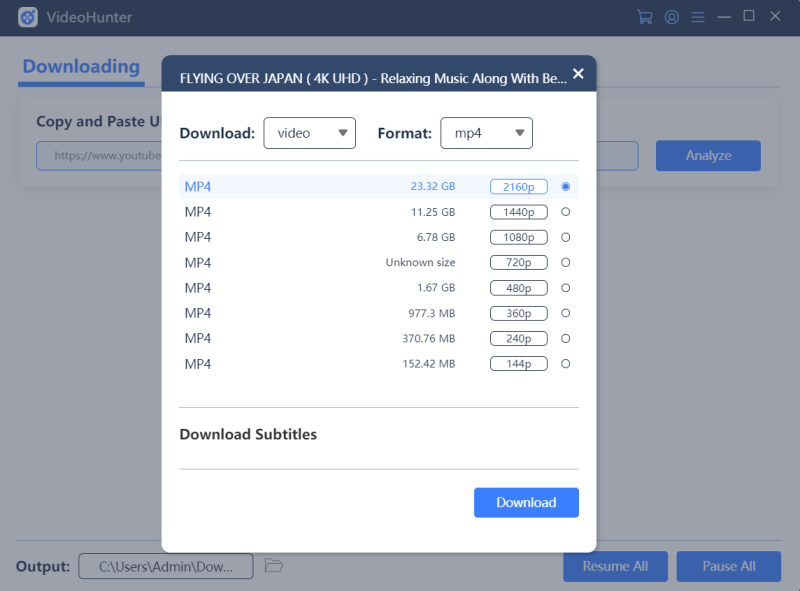 Method 2. Block YouTube Ads with AdBlock
Another convenient way to block YouTube ads is to use a lightweight add-on, which can be installed on both Chrome and Firefox. This is user-friendly to those who prefer streaming YouTube videos online instead of downloading them for occupying a large part of the device's storage space. It would not be difficult to install and use this add-on. Here comes the procedure for using AdBlock to block YouTube ads on Chrome.
STEP 1. Go to the extension store and find AdBlock from its database.
STEP 2. When you find the extension, click the button to add it to your Chrome browser. Just follow the instruction and the extension can be simply added with only simple clicks.

STEP 3. Every time you stream YouTube videos on Chrome, please turn on AdBlock, and then, it will detect the total number of ads that appeared on YouTube for you. When you need to skip an ad, just click the AdBlock icon and choose to block the ads on YouTube. It is very easy to use.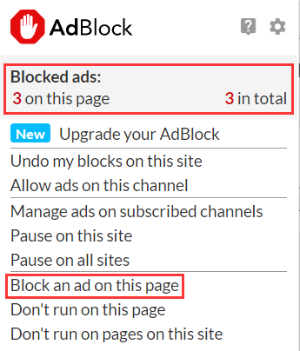 NOTE: You can apply similar operations to block YouTube ads on Firefox and Safari browsers.

The Drawback of AdBlock:
AdBlock can't automatically block ads on YouTube videos when there is one appearing in your sight. So every time there is an ad showing up in a YouTube video, you need to click AdBlock to skip it manually.
Method 3. How to Block Ads on YouTube with a VPN
In addition to the methods mentioned above, using a VPN(Virtual Private Network) is also feasible. First of all, we need to know that YouTube captures users' interest in content by tracking the IP address and monitoring online behavior, and then, deciding what ads to display to the user. Then, using a VPN can mask your IP address and DNS requests, resulting in no data related to your actual IP address, making the YouTube algorithm display no ads to you.
However, it is important to note that not all VPNs can block YouTube ads. Next, we will introduce some reliable VPNs for you.
Top 3 VPNs to Block Ads on YouTube
1. ExpressVPN
ExpressVPN, the number one VPN in the world, has a built-in ad blocker to get rid of bothersome ads from YouTube, offering over 3000 servers in 94 countries. This well-compatible VPN can be used on multiple devices for you to block YouTube ads, including Mac, Windows, iOS, Android, Linux, and more, allowing up to five users to get connected simultaneously.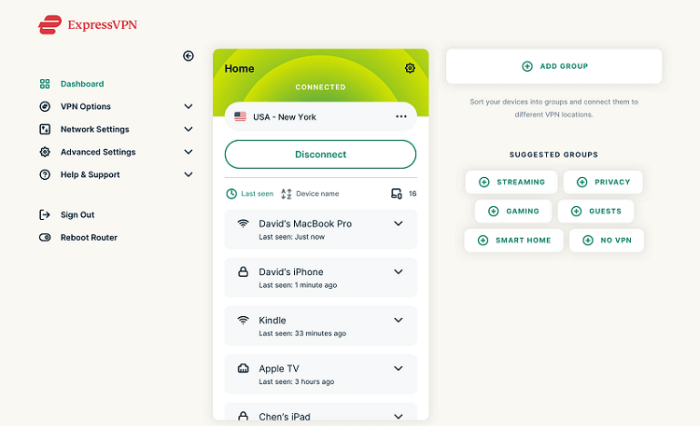 2. NordVPN
It is one of the most popular online ad blockers with high privacy and security, able to block all types of ads, including pop-ups, banners, and video ads. This VPN works well on all devices like Mac, Windows, Android, iOS, and so on, supporting one account for up to six computers at the same time. Moreover, it can block malware, trackers, and malicious websites to ensure that users can have a safe internet environment.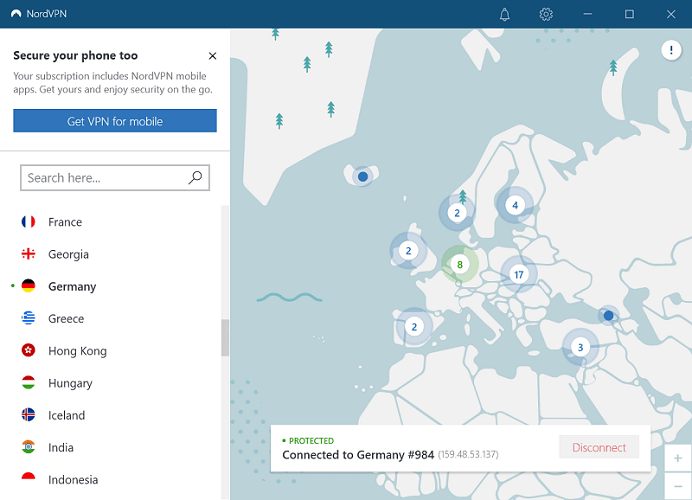 3. Surfshark
Compared with the previous two VPNs, Surshark n requires the lowest cost with only costs of $2.49 per month. Moreover, it allows one Surfshark subscription to be used on multiple devices at the same time, with unlimited numbers. This is great news for those on a budget. Similarly, this VPN is also equipped with powerful security features to ensure that you can avoid various security risks when surfing the Internet, including data breaches, hacking attacks, and snoopers.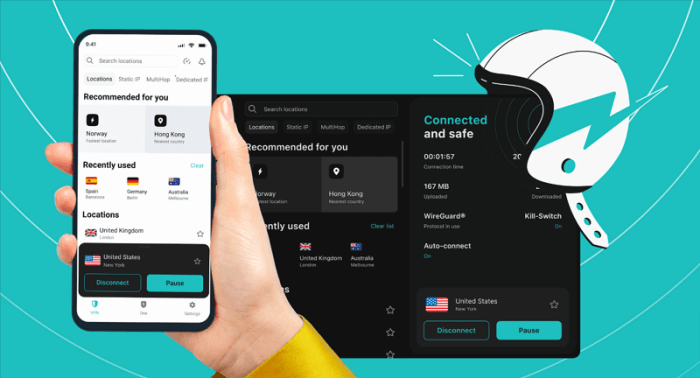 Step-by-Step Tutorial to Block YouTube Ads with a VPN
In fact, all VPN operations are similar. You can use the VPN directly to get rid of YouTube ads by following the tutorial.
STEP 1. Download and install the VPN on its official website.
STEP 2. Some VPNs will offer a free trial with limits for new users to try on. You can start your free trial or select a price plan to purchase the app.
STEP 3. Activate the ad block by connecting to a server.
STEP 4. Now, you can watch YouTube videos with no ads.
Method 4. Block Ads with YouTube Premium Directly
Undoubtedly, the easiest and most direct way to block YouTube ads is to subscribe to YouTube Premium. In addition to removing video ads, it also allows users to download videos, music, and movies for offline viewing. Moreover, you can also directly watch exclusive member-only videos provided by YouTube. Apart from these, YouTube Premium has many advantages waiting for you to discover.
However, what if I just need to remove the video ads? Is it worth subscribing to YouTube Premium? YouTube Premium offers a 30-day free trial for first-time subscribers. After expiration, it will cost $11.99 per month to subscribe. Long-term subscriptions will incur significant expenses for those on a budget. Therefore, to save precious money, downloading YouTube videos directly to the computer is the most effective method to block ads on YouTube.
Extra Tips 1: How to Block Specific Ads on YouTube
Although YouTube offers a lot of interesting ads, some ads can be off-putting to some people. So if you encounter an ad that makes you uncomfortable, here are the steps on how to block the particular ad on YouTube and let YouTube reduce the appearance of such types of ads.
STEP 1. When you meet the target ads show up, click the Info "i" icon.
STEP 2. Select Stop seeing this ad on the ad.
STEP 3. Provide feedback on why you don't want to see this ad. (Optional)
NOTE: This option is only available for those who have turned on ad personalization in the Google Account.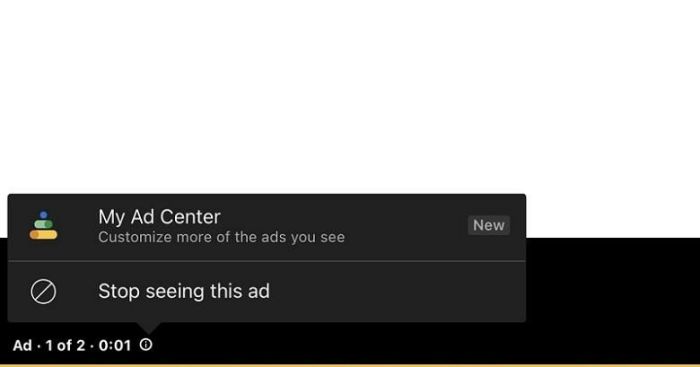 Extra Tips 2: How to Block Appearing Ads on My YouTube Channel and Videos
For video creators on YouTube, you are allowed to make changes to ads that show up on your own channel and videos. If you want to block a particular advertiser, or sensitive categories of ads, you can filter the ads on AdSense. Here's how.
STEP 1. Log in to your AdSense account. Then click on the menu button in the upper left corner.
STEP 2. Select Blocking controls > YouTube host. Then, there are two filters to select.
Option 1. Block specific advertiser URLs:
On the bar at the top of the page, click the Advertiser URLs tab. Then, enter the URL in the box that displays > click Block URL.


Option 2. Block ads by general or sensitive categories:
On the bar at the top of the page, click the relevant tab, then use the controls on the page to allow or block specific categories of ads on YouTube.
Once you've made your selection, the changes are automatically saved and will take effect on your channel within 24 hours.
Final Words
We all don't like ads while watching YouTube videos because it greatly affect our experience in having a smooth and enjoyable video playback. To solve the problem of how to block YouTube ads, this post is listed 4 easy solutions above, including downloading YouTube videos, using Ad blocker extension, using VPNs and subscribing to YouTube premium.
All these methods are helpful indeed. But which one is the best solution to help you block ads on YouTube should depend on yourself. As for me, not only for YouTube ads but also many other platforms, using VideoHunter to download the videos in advance is a very good choice. You even don't need to worry about the playback errors. Why not give it a try?