CNN
is one of the biggest news delivery platforms, which provides 24-hour news coverage of all days and offers latest news happened in all over the world for people to view. On CNN, you can discover any types of news as you need. Except for traditional text news, video news are also offered on CNN. Except for CNN official website, you can grasp the refreshed video news on its YouTube channel as well. But is there any way for us to download CNN video news offline before they are refreshed everyday? Certainly, now only with one tool, you can easily download CNN videos from both its website and YouTube channel. In the meanwhile, you're able to learn how to download CNN videos online.
CONTENT
1. Can I Download Videos from CNN?
2. How to Download CNN Videos from CNN.com?
3. How to Download CNN Videos from YouTube?
4. How to Free Download CNN Videos Online?
1. Can I Download Videos from CNN?
CNN
provides up-to-date video news for people to grasp the news in a more vivid way. However, a pity for us should be that CNN doesn't provide the direct downloading option for us to keep the video news offline. So when you discover a piece of valuable news to you, you have to turn to other ways to help save it for accessing offline. Luckily, these is a powerful CNN video downloader to help-VideoHunter.
Attention: Please note that you can only download the copyright-free videos from CNN, or those you have granted permissions to download from the video owners. Otherwise you may result in copyright infringement.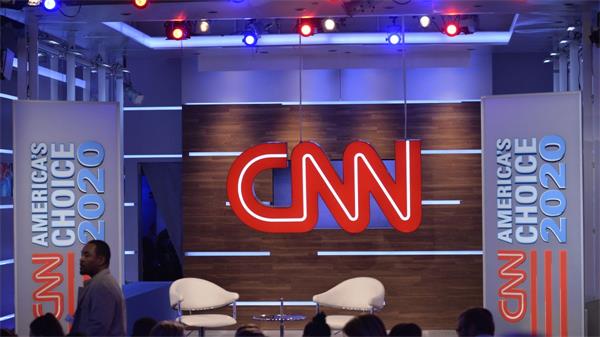 2. How to Download CNN Videos from CNN.com?
VideoHunter
is a reliable CNN video downloader of all time. It performs fluently to download 1080p videos from both CNN.com and its YouTube channel. Its high compatibility also allows VideoHunter holds the ability to save videos from other 1,000+ websites, including
YouTube
, Facebook, Twitter, Dailymotion, TED, Niconico, etc. As a result, VideoHunter is also regarded as an
Any Video Downloader
. Besides, in the latest update, VideoHunter supports to download and
merge subtitles
in one go, or you can choose to download the subtitle in SRT formats into a separate file, which will be a helpful tool for learning.
VideoHunter A Reliable and High-quality Any Video Downloader for Windows/Mac Offer high resolutions to download video: 1080p, 4K, 8K; Up to 6X faster downloading speed; Built-in converter with 20+ formats for Mac (Windows soon); Easy to use functions and user-friendly in-app design; 100% safe environment without ads or virus. Free Download Free Download
First of all, let's see how can we download video news from CNN.com under the help of VideoHunter.
STEP 1.
Open CNN.com in your browser. Then turn to the video news section for browsing. When you find the piece of video news you would like to save offline, click into its video page and place your cursor to the address bar for copying the URL.
STEP 2.
Now you should go to VideoHunter. Then, paste the URL of the CNN video news into the frame bar of the
"Downloader"
. When you hit the icon of
"Analyze"
, the video will be converted immediately.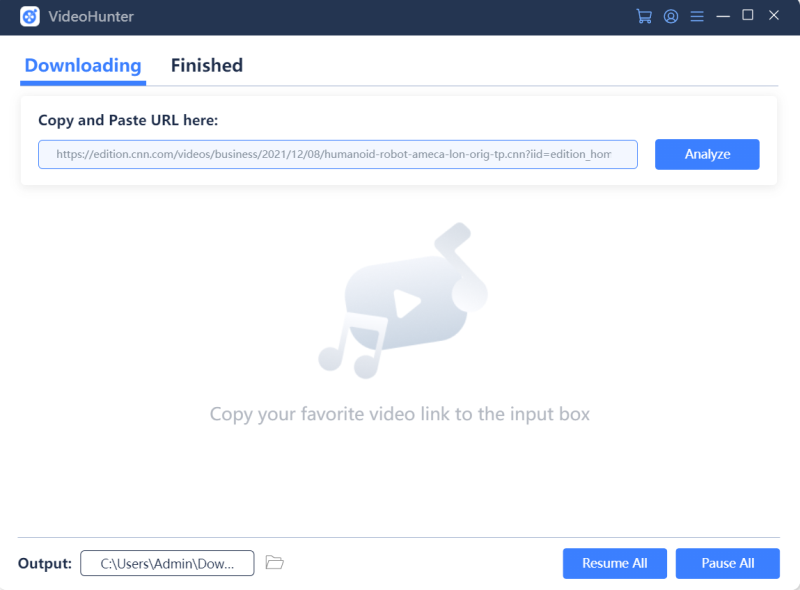 STEP 3.
When you get a menu of output options to select. Select MP4 and the quality you need for saving the CNN video news. If the original video provides subtitles, VideoHunter can also detect and provide you options to
download the subtitles
of the video in the language you need. After making the choices, finally, just hit the
"Download"
icon to start saving the video offline.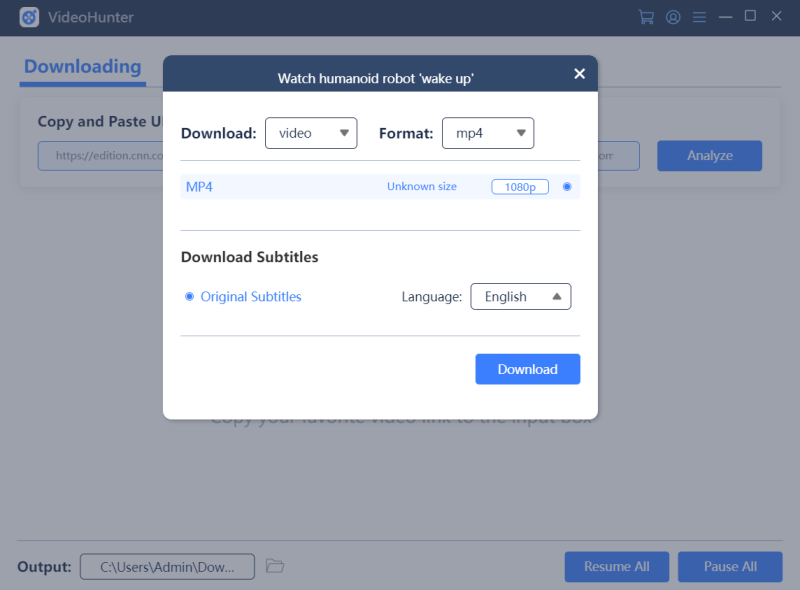 Full Tutorial on How to Download CNN Videos with VideoHunter
3. How to Download CNN Videos from YouTube?
Except for CNN official website, if you find it much easier to get video news from CNN's YouTube channel, you can also use VideoHunter to download CNN video news from it. Here is a brief tutorial for you.
STEP 1.
Go to CNN's YouTube channel and browse its video news to get to the news you'd like to download. Then, simply copy its URL.
STEP 2.
Also, go to VideoHunter's
"Downloader"
and then paste the video URL into the downloading frame bar. After that, give a click on the
"Analyze"
button.
STEP 3.
When VideoHunter finishes analyzing the video and offers output options for you to choose. Like the above tutorial, select an output format as well as quality for the CNN video you are going to download, and hit the
"Download"
to start downloading it right away.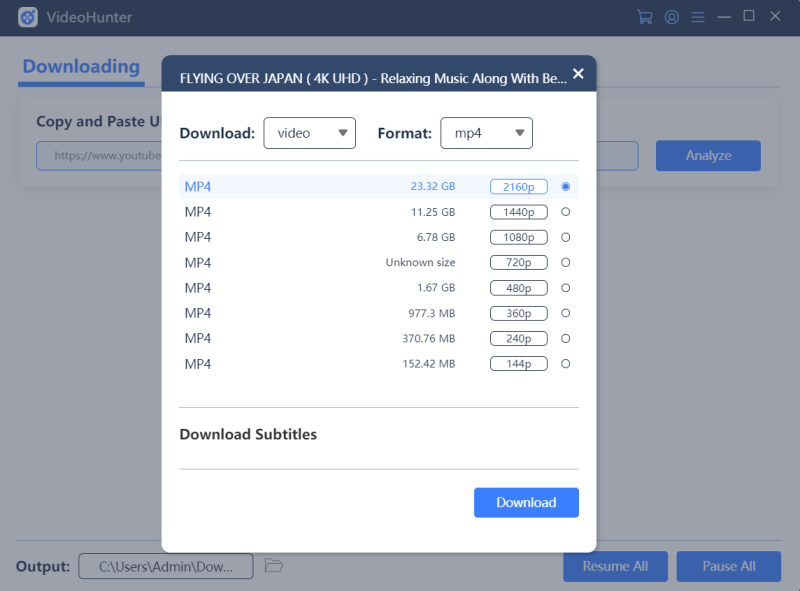 VideoHunter takes a short time to download videos, so you just need to wait shortly to get the downloaded CNN video news. After saving the videos offline, you can access them at any time you want for streaming offline without worrying your Internet connection.
4. How to Free Download CNN Videos Online?
Keepvid
offers a convenient and powerful way to download CNN videos online, which will help you download CNN videos without downloading any extra app. This online tool supports to download videos from YouTube, Vimeo, Dailymotion, Facebook and so on. And the downloading steps are quite easy to grasp for any new user. However, as a free online downloader, it can't avoid to be overwhelmed by ads, which will be put your PC into risk. Please pay attention to its potentially malicious pop-ups when you proceed with CNN downloads.
Guide on How to Download CNN videos with Keepvid:
Step 1:
Navigate to
https://www.cnn.com/videos
and find the CNN video you would like to download.
Step 2:
Copy the URL and paste to the download box of Keepvid and click "Go" to start analyzing.
Step 3:
Choose the quality and format provided and click "Download". Both downloading through VideoHunter and Keepvid are quite easy. However, if you want to find a reliable and stable desktop CNN video downloader to download CNN news. Then VideoHunter is always the best choice!
You May Like:
How to Download TED Videos for English Learning Offline
How to Download Subtitles from Online Videos [2022 Guide]
8 Best Video Downloaders for Desktop or Windows PC in 2022