Today, many video players support to integrate the subtitle files with the videos for playing back together, so users are more easily to enjoy a video with subtitles offline. But the problem is, how can we download subtitle files from online videos if they are not edited with the original videos directly? Well, this is not a big task. If you can find a subtitle downloader that can detect the subtitle files from online videos, you can easily save them offline. In this blog, you will get a smart and reliable recommendation and learn how hassle-free it is to download subtitles from streaming videos.
CONTENT
1. Subtitles vs. Closed Captions2. How to Download Subtitles from Streaming Videos to PC3. How to Download Subtitles Online: 3 Recommended Sites4. Extra Tip: How to Add Subtitles to Videos5. FAQs About Subtitles
1. Subtitles vs. Closed Captions
Before introducing a professional subtitle downloader to you, let's make clear about two terms - subtitles and closed captions. You may have heard about them, and they have very similar meanings, which refer to the words and sentences used to explain the content in a video file. But what are the exact differences between them?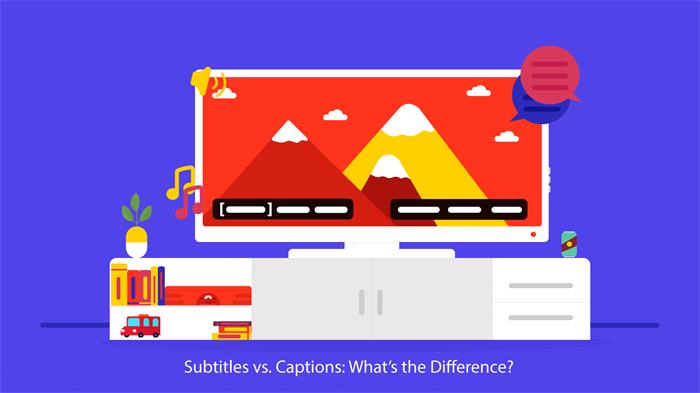 Actually, subtitles and closed captions are two different things in a video and they are designed for different purposes. Subtitles play a role in providing the text alternative to the video's dialogue (if there is any) for letting people to better grasp what the characters or narrators are speaking in the video. Sometimes the vocal participants may speak at a fast speed or with an accent, so audiences may hard to get a clear understanding of the content. Therefore, the existence of subtitles is here to provide a more convenient and direct way for people to understand the dialogue better.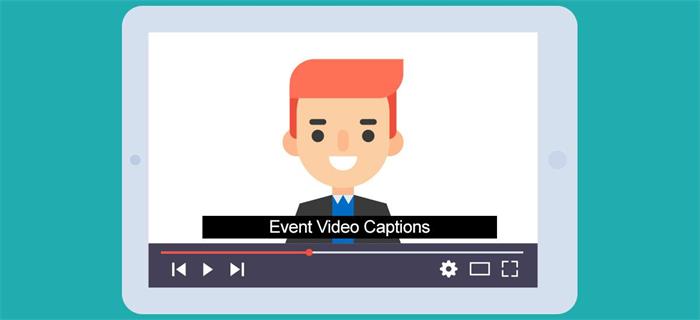 Closed Captions (we also know it as CC) work differently from subtitles. Closed captions are the time-synchronized text which function to transcribe the audio into words, whose original developing aim is to help the viewers who can't hear the audio of the video but could still understand the content that the video is talking about. So being different from subtitles, closed captions not only include the dialogues spoken by the characters, but also other sounds that could be heard in the video such as the sound of keys, door knocking, etc.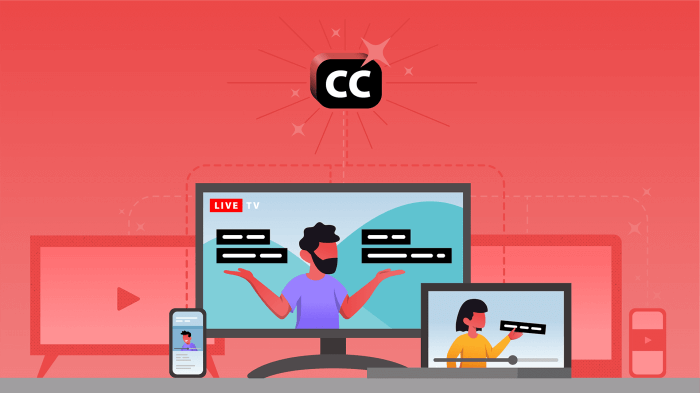 So coming back to this blog, the subtitles we are talking about here is a translation footage uploaded by the video owners to help foreign viewers to understand the dialogue of the content. They are different from closed captions. Also, the subtitle downloader that will be introduced in the next part is also based on this feature. If you need to download subtitles
with online videos for playing back offline, just continue on reading. You'll learn how to download subtitles from online videos easily.
2. How to Download Subtitles from Streaming Videos to PC
Now let's come to the tool that can help you download online videos with subtitles. With the ability smartly detect subtitle files and download them in separate SRT, VTT or TTML file, VideoHunter is a reliable subtitles downloader with outstanding performance. For online videos that are uploaded with subtitle footage, VideoHunter can detect them and provide corresponding options to save offline.
More importantly, when you download music videos or tutorial videos, you can download them with subtitles merged and get a separate SRT file at the same time, which would be more convenient than other subtitle downloaders. Therefore, it's super easy for every new user to download subtitle files with VideoHunter.
Attention: Please note that VideoHunter can only detect the subtitle footage that is uploaded or created separately. If the subtitles are edited inside the video during the creation process, VideoHunter could not extract them and create a separate file for downloading offline.
💡 Other Sparkling Features of VideoHunter
#1. It supports to download videos and audios from 1000+ sites including YouTube, TikTok, Facebook, Instagram, Pinterest, Twitter, SoundCloud, Vlive, Niconico, Bilibili, TED, CNN, etc.
#2. VideoHunter supports multithreading download, which will make full use of your internet and all video/audio download processes will be quickened and completed efficiently.
#3. The output quality of this video downloader can reach up to 1080P, 4K and 8K at maximum.
#4. VideoHunter equips with an in-app proxy setup that makes it possible to download videos that are blocked in your region and bypass restrictions.
VideoHunter is a simple-to-use and lightweight program. The only thing you need to do is to bring a URL to VideoHunter, then the analysis process will be done for you by this powerful video downloader. Quickly go through the tutorial on how to download subtitles from YouTube videos using VideoHunter.
📌 Download YouTube Video with English Subtitles using VideoHunter
STEP 1. Copy the URL of your favorite videos on YouTube.
NOTE: As VideoHunter can detect the subtitles of online videos uploaded on its supported websites, not only YouTube but also 1000 other sites are supported, so never you need to worry if the online video you are going to download is supported by VideoHunter.
STEP 2. Paste the URL to the input box in VideoHunter. When you hit the "Analyze" button, VideoHunter will convert the URL for you.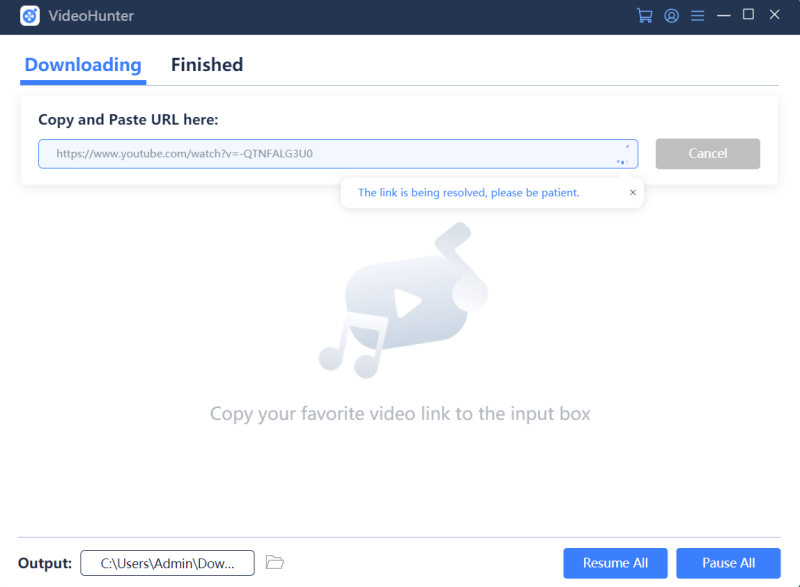 STEP 3. When the output choices show up, you can select the video/audio format and also your preferred quality to save the video/audio offline. When VideoHunter detects the subtitles of the video, it will provide the subtitles downloading options to you. Just select the language you need and finally hit "Download" to download english subtitles.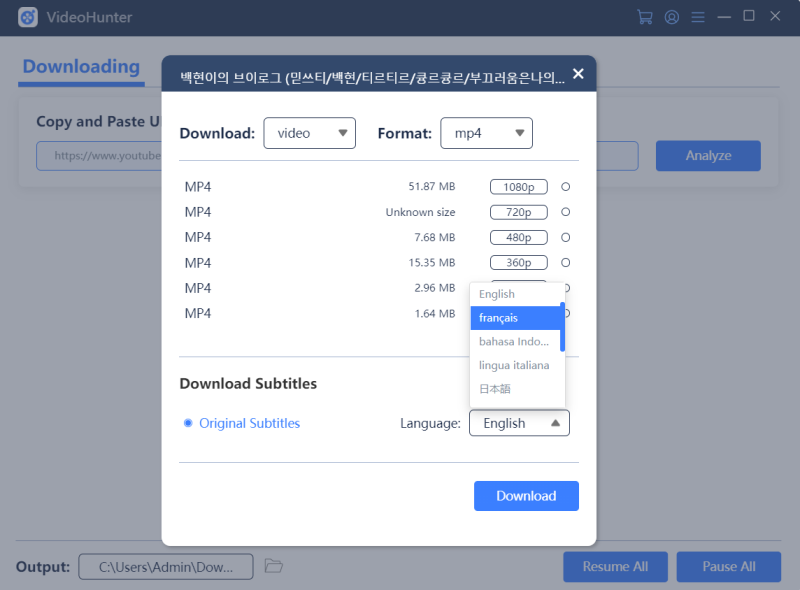 When you have downloaded subtitles from YouTube videos, you can play them back using the media players that support to integrate subtitles with the video content for streaming offline. For specific steps, please read the fourth part of this article.
VideoHunter A Reliable and High-quality Any Video Downloader for Windows/Mac Support to download videos from YouTube, Facebook, Dailymotion, and 1,000 more websites; Offer high resolutions such as 1080p, 4K, and 8K to output; Offer mainstream formats like MP3, MP4 to encode the videos; Allow to download subtitles in an extra file offline; Enable 6X faster speed and batch download to save much time; Ensure 100% clean and safe environment for everyone to use. Free Download Free Download
3. How to Download Subtitles Online: 3 Recommended Sites
Generally, we need to download subtitles for movies or videos in order to better understand their content. Meanwhile, subtitles make people who speak another language access excellent movies from diverse parts of the world. More importantly, subtitles play an irreplaceable role for the deaf or person who has a hearing impairment.
Therefore, quite a number of subtitle download sites are doing well in providing relatively instant subtitles which make an overwhelming amount of content from around the world available for us to consume. The 3 best of them will be listed below for your reference:
#1 OpenSubtitles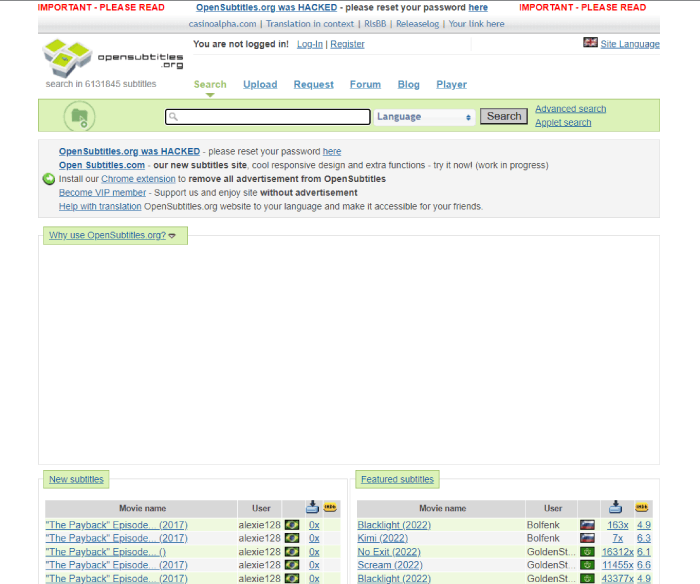 OpenSubtitles is regarded as the largest database of subtitles in multiple languages. At the same time, this site offers 50+ languages for users from around the world to navigate. The fast loading and responding speed has greatly improved the user experience. From the intuitive interface, you could easily type in the title, date of release or genre of your target movie into the search bar and choose the language you want, then several most popular results will show up automatically for your choice. If they are not the ones you want, just click the "Search" button to get the full result.
Although it's a very lightweight and convenient free subtitle download site, you should pay attention to avoiding mistakenly downloading the adware for the sake of security.
#2 Subscene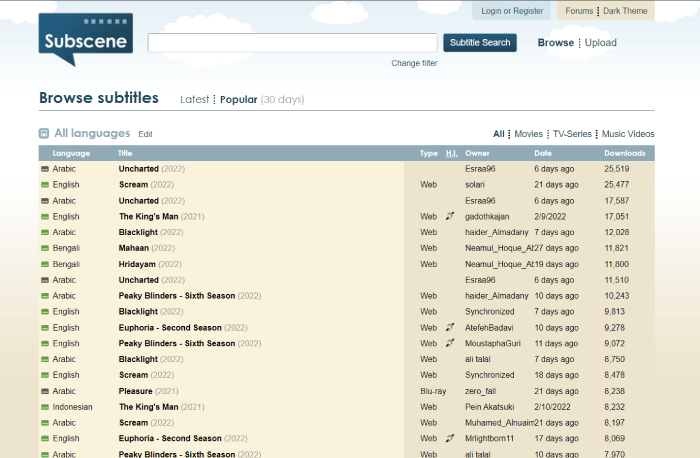 From the interface of Subscene, you may notice it is not that old-school as OpenSubtitles. Subscene is one of the best subtitle download sites that provides an online community, which makes it possible to share and find some subtitles that would have been hard to find.
This site aims at providing sizeable subtitles to the latest movies and series. You can even get a segment subtitle preview before downloading or leave your comments on the quality of the subtitle. Most importantly, you can gauge the quality of these subtitles by user reviews as there are helpful to some extent as they may be also movie fans like you who would like to find the most enjoyable subtitles.
#3 Downsub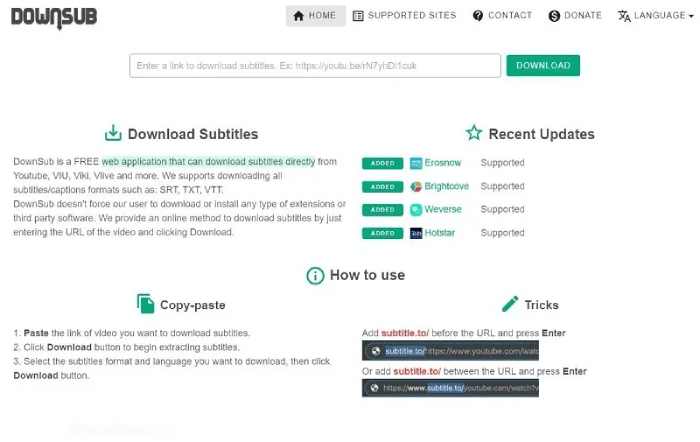 Different from OpenSubtitles and Subscene, Downsub provides the opportunity to download subtitles from movies and TV series, and it also develops the support to download subtitles from streaming videos. You need to copy the URL of the video you want to download subtitles and press "Download". Then it will start analyzing and extracting subtitles and you can select to download SRT, TXT or VTT formats to download. However, this site will require extra copy and paste actions and you need to avoid clicking on the ads which are always posted on some prominent positions.
4. Extra Tip: How to Add Subtitles to Videos
If you download external subtitles, then when you play the movie offline, you need to add subtitles to the video or merge the video file and the subtitle file completely. These two ways of combining subtitles and video are described in two parts below.
Add Subtitles to Videos for Offline Playback Using VLC
There is no need to over-emphasize the convenience of VLC Media Player in our life and let's get right to the point. To start with how to embed subtitles to a video in VLC, please check if you have correctly downloaded subtitles in the format of SRT, SSF, TXT or other as these are the most popular subtitle format and available to be downloaded by subtitle download sites or software. And the whole process is quite simple:
Step 1. Open the video you would like to add external subtitles in VLC.
Step 2. Click "Subtitle" and tap on "Add Subtitle File". Then select the subtitles you just downloaded.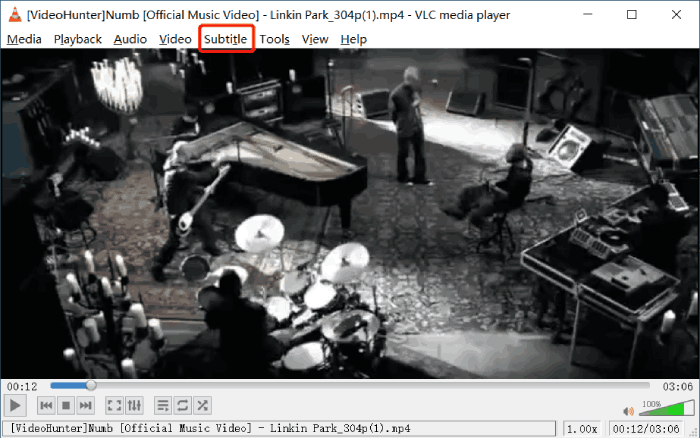 Permanently Add Subtitle to a Video using Video Converter
If you need to merge subtitles and videos together, there is no doubt that using a Video Converter is a good way to do it. If you need to merge subtitles and videos together, there is no doubt that using Video Converter is a good way to do it. Here we have selected for you the multifunctional VideoSolo Video Converter Ultimate, which is simple and easy to use.
Step 1. Add the video file that you want to put the subtitle.
Step 2. Click "+" to add an external subtitle file and preview.
Step 3. Click the "Convert All" button on the main interface, your video will be delivered with the subtitle encoded permanently.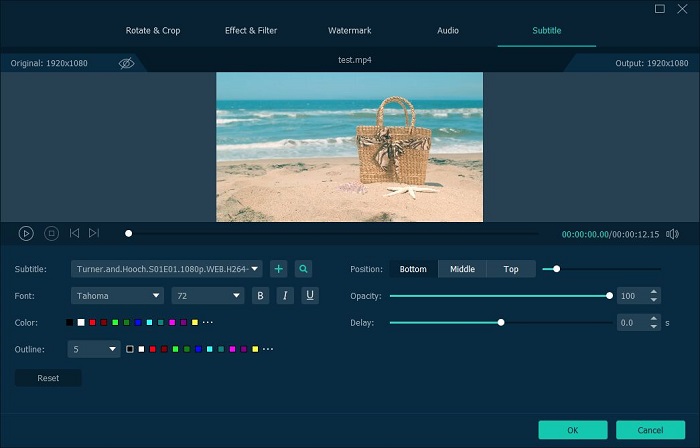 5. FAQs About Subtitles
1. What is a SRT file?
A SRT file is also known as Subrip Subtitle File, which contains critical information about subtitles, such as the start and end timecodes of your text. They guarantee that your subtitles can perfectly match your audio.
2. What can I do if my subtitles are out of sync?
Subtitles sometimes may delay or go faster which would disturb harmony. However, some media player has built-in settings to offer the help to adjust the delay such as VLC. You're able to manually adjust the timecode and sync the subtitles very soon. Simply by going to "Tools > Synchronization" in VLC and put a negative or positive value to adjust the subtitles, you can see a noticeable change with your subtitles.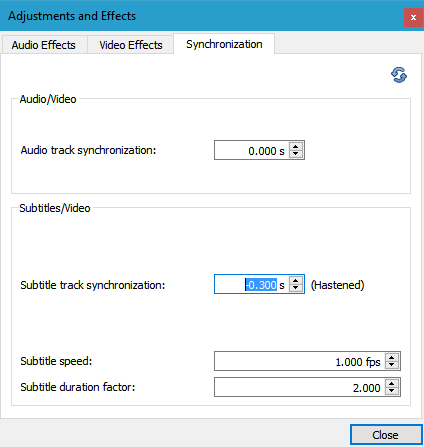 Conclusion
From the introduction above, you've already known VideoHunter - the best subtitle downloader software for online videos and 3 best subtitle download sites. Now with the help of VLC, you're able to add external subtitles to your favorite videos, which would be the best solution to secondary creation to your artworks. If you find this article, please feel free to share with your friends!
You May Like:
[Solution] How to Download Subtitles from YouTube
VLC YouTube Download/Streaming Not Working - Fix It!