Nowadays, people tend to watch subtitles along with videos, movies, and TV shows, especially when playing foreign videos, and want to understand the content better. So to help you have a more friendly foreign video playback experience offline, this article will introduce the 10 free subtitles download sites to help you easily download subtitles from YouTube or other streaming platforms. Now, just start reading and find the best way to download subtitles for movies and other streaming videos.
CONTENT
10 BEST Free Subtitles Download Sites for Movies Recommended
Download Subtitles & Closed Caption from YouTube (With or Without Videos)
FAQs about Downloading Subtitles
Extra Tip: How to Add Subtitles to Videos
10 BEST Free Subtitles Download Sites for Movies Recommended
To process subtitles download, these 10 best sites can provide convenient help. Before going to their detailed introduction, you can check this table to preview them first.
| | | |
| --- | --- | --- |
| Functions | Download playlist in bulk | Ads free |
| OpenSubtitles | 50+ languages | Yes |
| Subscene | Based on the movies (can support more than 120+ languages) | Yes |
| Downsub | 15 languages | No |
| TV-Subs | 16 languages | No |
| YTS Sub | Based on the movies | No |
| ADDIC7ED | 18 languages | No |
| English-subtitles | Based on the movies | Yes |
| Subtitleseeker | Based on the movies | No |
| Subdl | 64 languages | No |
| Podnapisi | 100+ languages | Yes |
Now, you can keep reading and get a more detailed introduction of the subtitles download sites you are interested in.
#1. OpenSubtitles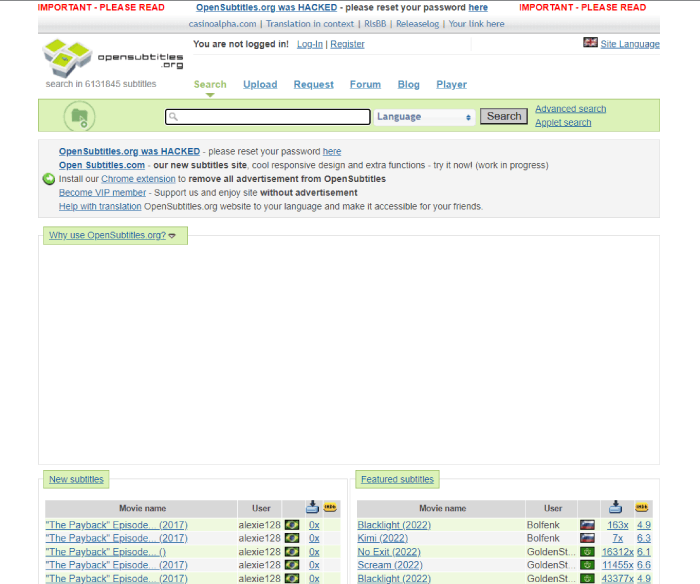 OpenSubtitles is regarded as the largest database to help process subtitles download in multiple languages. At the same time, this site offers 50+ languages for users from around the world to navigate and easily download subtitles for movies online. The fast loading and responding speed has greatly improved the user experience. From the intuitive interface, you can easily type in the title, date of release, or genre of your target movie into the search bar and choose the language you want, then several of the most popular results will show up automatically for your choice.
If they are not the ones you want, just click the "Search" button to get the full result. Although it's a very lightweight and convenient free subtitles download site, you should pay attention to avoiding mistakenly downloading the adware for the sake of security.
#2. Subscene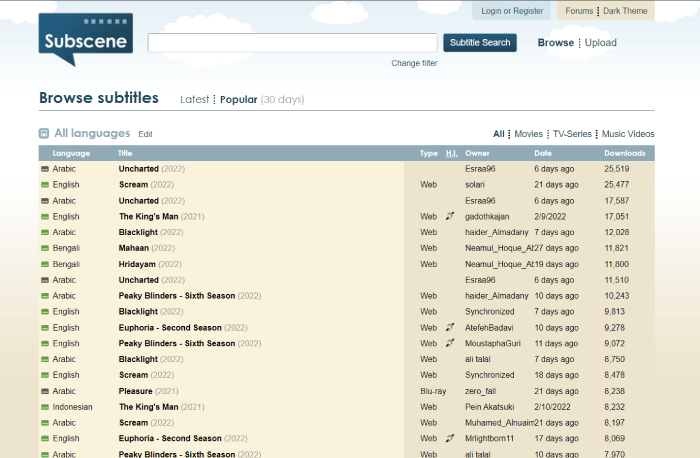 From the interface of Subscene, you may notice it is not as old-school as OpenSubtitles. Subscene is one of the best subtitle download sites that provides an online community, which makes it possible to share and find some subtitles that would have been hard to find.
This site aims at providing sizeable subtitles to the latest movies and series. You can even get a segment subtitle preview before downloading or leave your comments on the quality of the subtitle. Most importantly, you can gauge the quality of these subtitles by user reviews as they are helpful to some extent as they may also be movie fans like you who would like to find the most enjoyable subtitles. With Subscene, you can easily download video with subtitles in good quality for having an enjoyable video playback experience offline.
#3. Downsub
Different from OpenSubtitles and Subscene, Downsub provides the opportunity to download subtitles from movies and TV series, and it also develops the support to download subtitles from YouTube streaming videos and also other platforms as you need. You only need to copy the URL of the video you want to download subtitles and press "Download". Then it will start analyzing and extracting subtitles and you can select to download. For any of you want to download YouTube subtitles as text in SRT, TXT or VTT formats, Downsub can satisfy you.
However, this site will require extra copy-and-paste actions and you need to avoid clicking on the ads which are always posted on some prominent positions. But still, for so many years, Downsub has been a popular tool to help download YouTube videos with subtitles for free.
#4. TV-Subs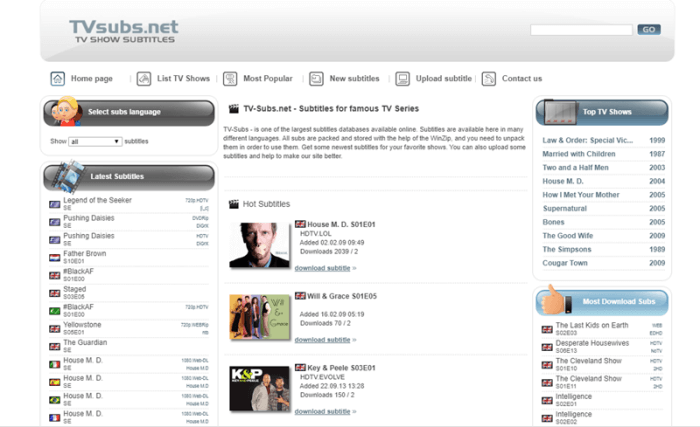 If you're more into TV shows than movies, TV-Subs is the right subtitles download site to dig out subtitles of your favorite episodes. This site boasts an online subtitles database of over 3,400 TV shows in 16 different languages, which enables you to upload and download subtitles for TV shows.
Also, the TV-Subs brings the Top TV Shows list and the Most Download Subs list to let you know what shows are going viral recently. Simply select a TV show and then the preferred subtitle. The site will pack the subtitles in a Zip file for easy management. If you're looking for subtitles for a TV show, go to TV-Subs and you'll get what you want to download video with subtitles directly.
#5. YTS Sub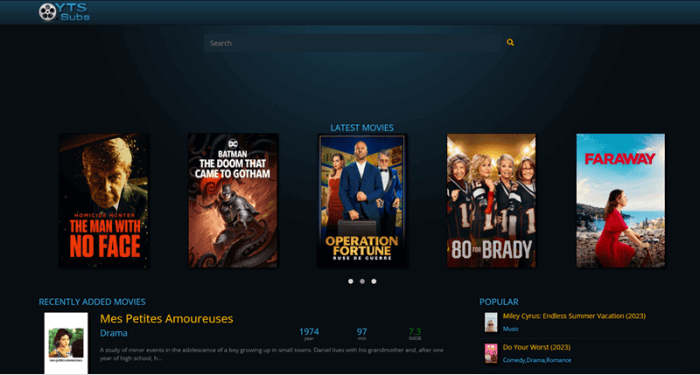 YTS Sub is an exclusive subtitles download site for movies of all genres in over 70 languages. It keeps updating subtitles for the latest movies and that's really helpful if you are looking for new movies that just rolled out recently.
Moreover, it presents a detailed introduction to every movie including release date, length, IMDB score, Tomato score, and so on. That also makes YTS Sub a nice place to explore the latest and top-rated movies. To download subtitles for movies, you can directly use its search bar to locate your desired movies. It'll pack all the subtitles into a Zip file to let you download subtitles for movies at once just click one click.
#6. ADDIC7ED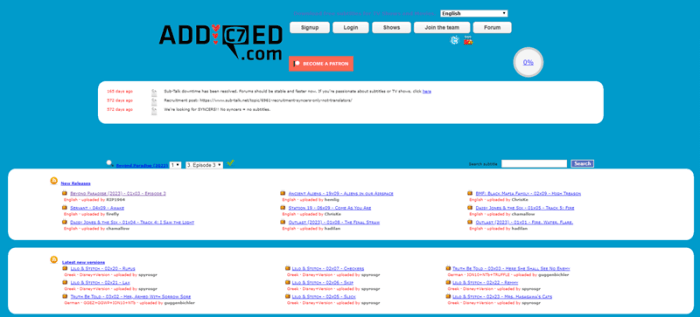 ADDIC7ED is more like a forum for TV shows and movie lovers to help each other to process subtitles download free. It requires an account login to access the subtitles. Now, this site covers 18 different languages around the world and is available for free download subtitles for classic and latest movies and shows.
Also, there are ongoing translations of subtitles listed on the site that you may want to help translate subtitles if you're interested. Subtitles for the latest movies and TV shows can be found in complete translations. ADDIC7ED allows to subtitles download in SRT files, so you can directly add them to the videos.
#7. English-subtitles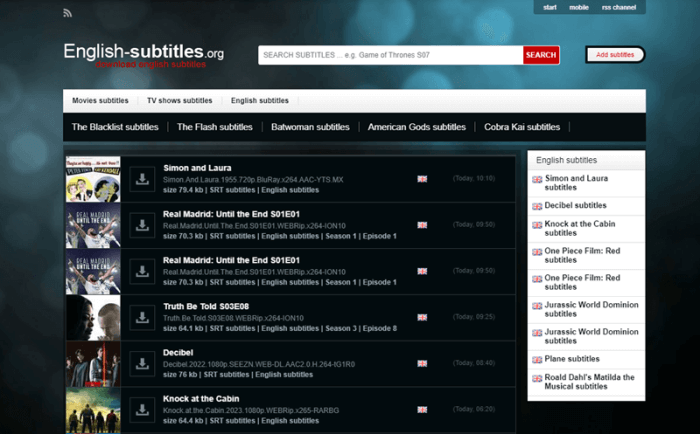 English-subtitles is a simple subtitles download site for TV shows and movies. As the name tells, it only provides subtitles in English. If you just want to download English subtitles, then don't miss this site. You just need to type in the title and search for related subtitles. It'll also show you the related movies in case you're intrigued. However, the site is flooded with ads, so you may get bothered by ads when processing English subtitles download on it.
#8. Subtitleseeker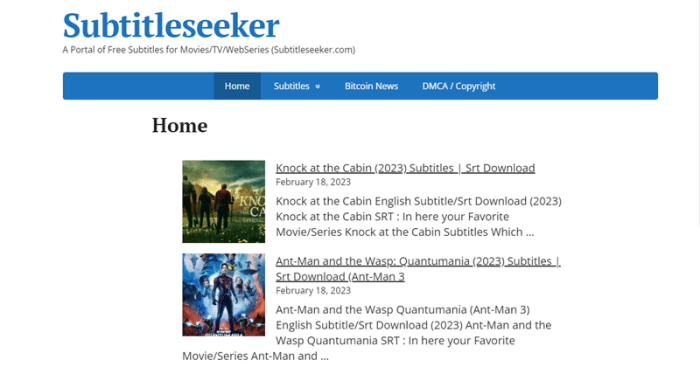 Subtitleseeker has a free daily-updated subtitles database available online for all kinds of movies and TV shows, and you'll be able to check out newly uploaded subtitles on its home page. What's better, if you click a movie, it will bring you a brief introduction and a trailer video from YouTube if available.
It's a great subtitles download site to find subtitles for the latest movies and TV shows, and it'll gives you options to download subtitles in SRT files or Zip files. However, the main drawback is that it only supports English subtitles. If you want subtitles of different languages, Subtitleseeker may not be a good choice.
#9. Subdl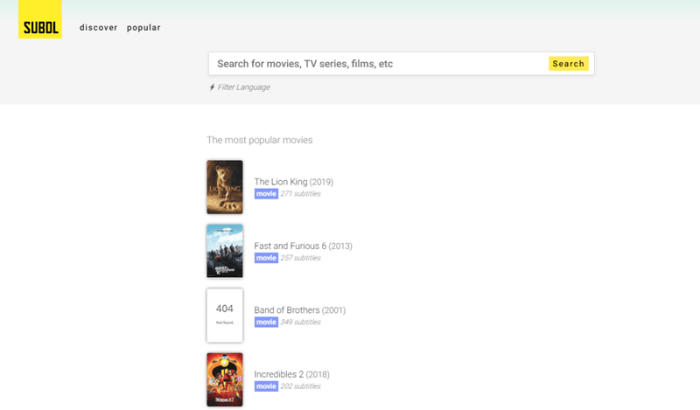 Subdl is a simply-designed subtitles download site based on its search feature. It offers subtitles of up to 64 languages and enables you to filter a specific language in English, Greek, German, Hindi, Dutch, Swedish, Frech, and so on. You can quickly find your desired subtitles for TV shows & movies on the site and download subtitles for movies or TV shows in SRT files. However, Subdl may not include the latest TV shows and movies, so it's not a good place for new releases.
#10. Podnapisi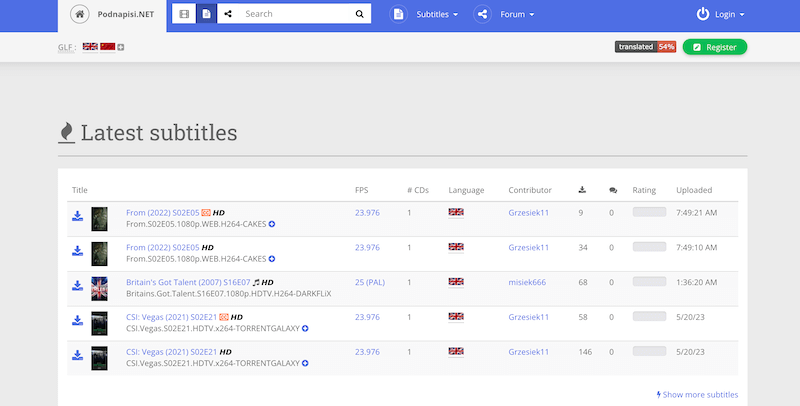 The final recommended subtitles download site you should not miss is Podnapisi. It offers more than 100+ most widely-used languages for most users from around the world to download subtitles for movies so that they can have an enjoyable playback experience offline. Because the provided subtitles on this website will be frequently checked and corrected for errors, you will get really high-quality subtitles from Podnapisi. Also, as there will be no ads on it, you will get a really good experience in browsing the contents you need and process subtitles download free on it easily.
Download Subtitles & Closed Caption from YouTube (With or Without Videos)
Instead of finding resources from a subtitles download site, you may need to download YouTube videos with subtitles to enjoy the best quality offline. So, here would like to recommend the most professional way to help you download subtitles from YouTube with or without videos flexibly.
The tool you can trust to process subtitles downloaded from YouTube should be VideoHunter. As a top-rated all-video downloader, it enables you to download video with subtitles and closed captions both separately or merging with the source videos directly.
When processing the subtitles download, VideoHunter can smartly detect multi-lingual subtitles that are uploaded separately or generated automatically by streaming sites. If you don't want to merge them with the videos, you can set to download YouTube subtitles as text in SRT, VTT, or TTML formats freely.
Other Sparkling Features of VideoHunter:
High-Resolution Video Quality - VideoHunter can keep the best video quality from the source and reach up to HD 1080p, 2K, 4K, and even 8K. Also, you can download videos with subtitles along the way.
Batch Download at 6X Rate - This superb downloader allows multithreading downloads at the same time and enables hardware & CPU acceleration to boost the download speed at 6X faster than ever.
Convert Music to MP3 - It also works as a powerful music video downloader to decrypt and download music videos or tracks from the best music sites like YouTube Music, Vevo, and SoundCloud.
Over 1,000 Sites Supported - It enables you to download subtitles, videos, and audio from any site including YouTube, TikTok, Facebook, Instagram, Twitter, Vlive, Niconico, TED, CNN, etc
Better Than YouTube Premium - VideoHunter is the best YouTube downloader that can download the whole content catalog from YouTube including Shorts, playlists, channels, and private videos.
Download YouTube Subtitles As Text Without Videos
Because VideoHunter supports downloading subtitles separately without videos, you can use it to download subtitles from YouTube and save them in SRT, VTT, or TTML formats as you need. Here shows you how to use it.
STEP 1. Copy the URL of the YouTube video that includes the subtitle you want to download.
STEP 2. Open VideoHunter and you should sign in the software first. Then directly paste the URL to the input box in VideoHunter. When you hit the "Analyze" button, VideoHunter will convert the URL for you and detect the containing YouTube subtitles.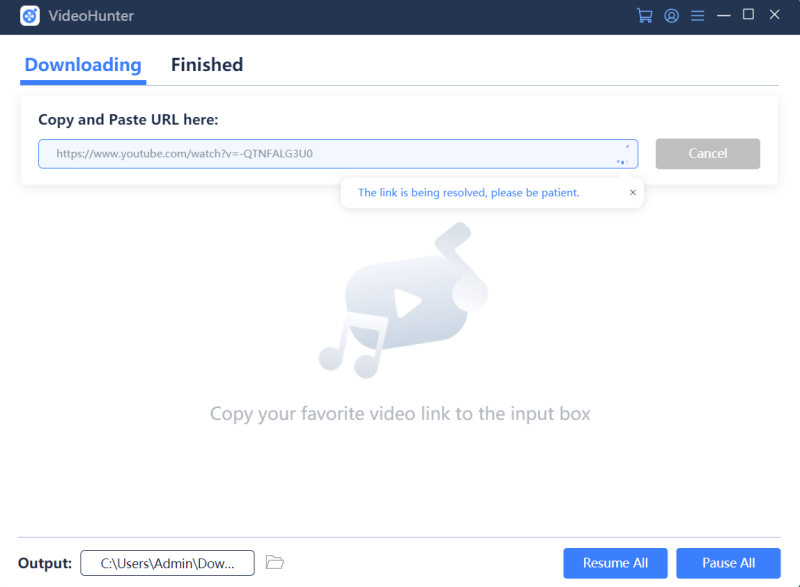 STEP 3. When the output choices show up, you can only select "Subtitle" as the "Download" object, and then choose the subtitle format you need. When you also select the language you need, finally hit "Download" to process subtitles download from YouTube video immediately.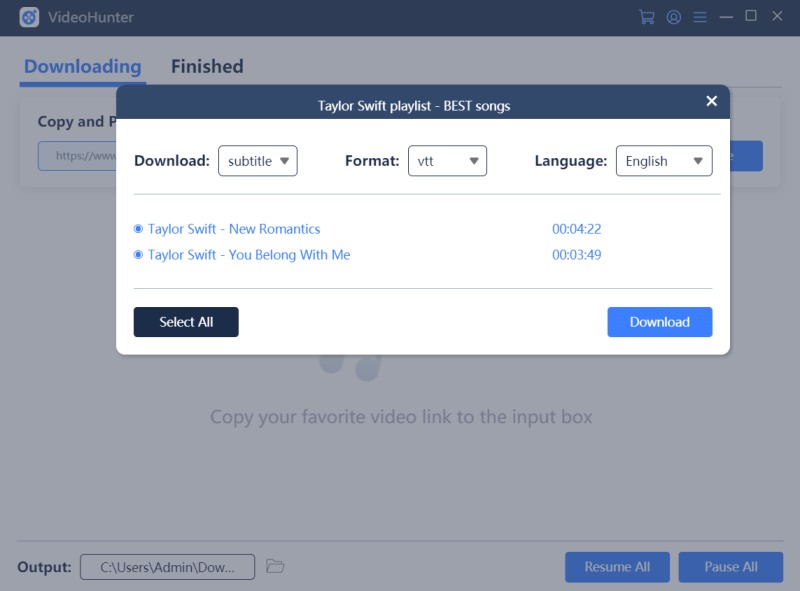 When you download subtitles from YouTube videos, you can play them back using the media players that support integrating subtitles with the video content for streaming offline. For specific steps, please read the Extra Tip part of this article.
Merge and Download YouTube Videos with Subtitles
If you want to download a whole YouTube video with the subtitles merged in it, VideoHunter can also help! This part will show you how to download YouTube videos with subtitles by merging them directly.
Step 1. Open VideoHunter and sign in first. Then you need to go to "Preferences" under "Menu" in the software first.
Step 2. Here, you should select "Merge subtitles in video file if possible" and click "Save".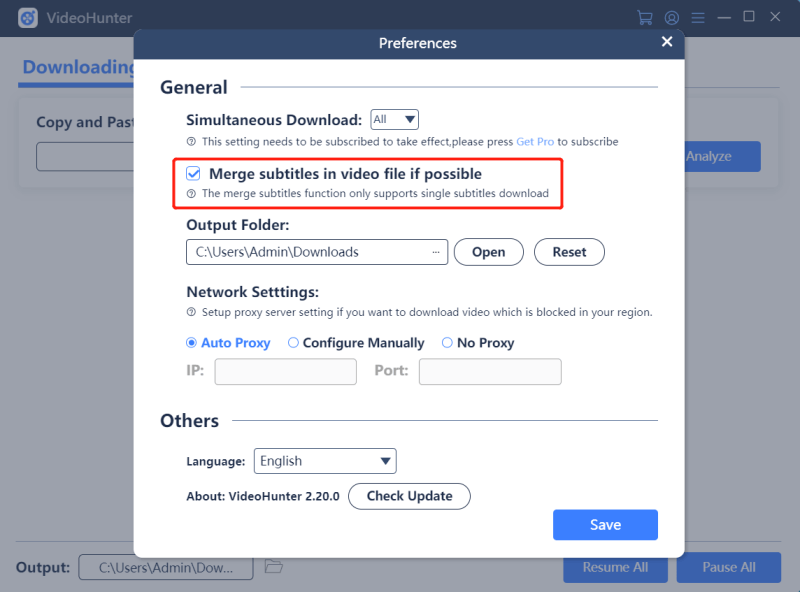 Step 3. Then you can go to copy and paste the URL of the YouTube video you want to download with subtitles to VideoHunter for converting.
Step 4. When the output options provided, select video format and the quality you need. Then in "Download Subtitles" part, choose the language you like. Finally, just click "Download" and you can download YouTube videos with subtitles for offline playback directly!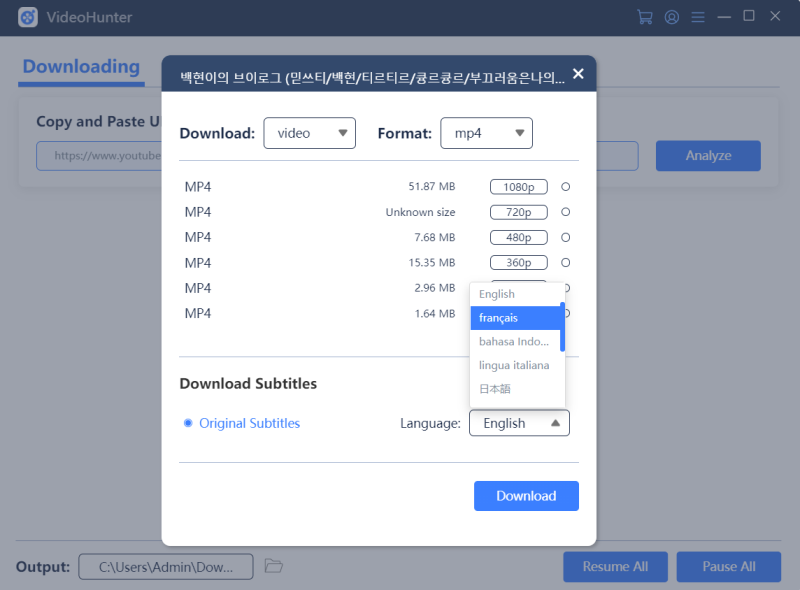 FAQs about Downloading Subtitles
1. What's The Difference: Subtitles vs. Closed Captions
Let's make clear two terms - subtitles and closed captions. You may have heard about them, and they have very similar meanings, which refer to the words and sentences used to explain the content in a video file. But what are the exact differences between them?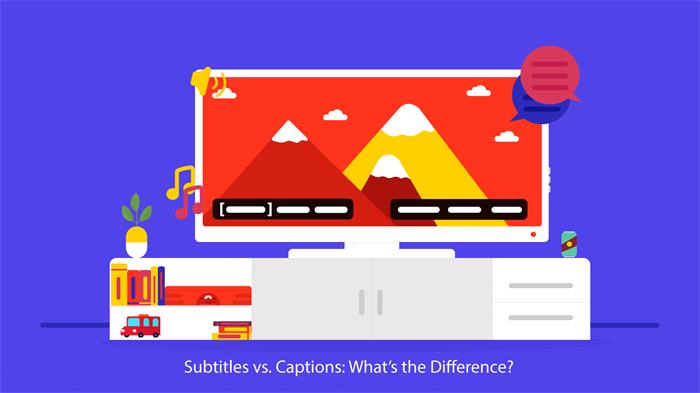 Actually, subtitles and closed captions are two different things in a video and they are designed for different purposes. Subtitles play a role in providing the text alternative to the video's dialogue (if there is any) for letting people to better grasp what the characters or narrators are speaking in the video. Sometimes the vocal participants may speak at a fast speed or with an accent, so audiences may hard to get a clear understanding of the content. Therefore, the existence of subtitles is here to provide a more convenient and direct way for people to understand the dialogue better.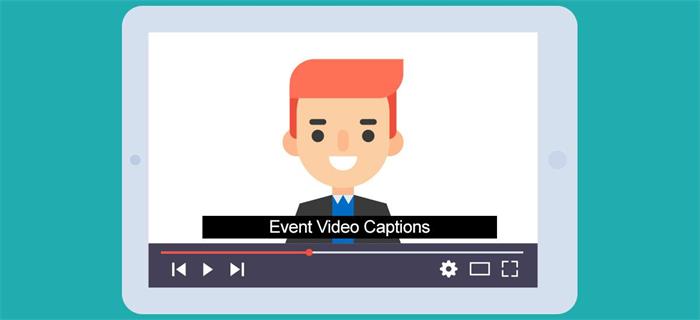 Closed Captions (we also know it as CC) work differently from subtitles. Closed captions are the time-synchronized text which function to transcribe the audio into words, whose original developing aim is to help the viewers who can't hear the audio of the video but could still understand the content that the video is talking about. So being different from subtitles, closed captions not only include the dialogues spoken by the characters, but also other sounds that could be heard in the video such as the sound of keys, door knocking, etc.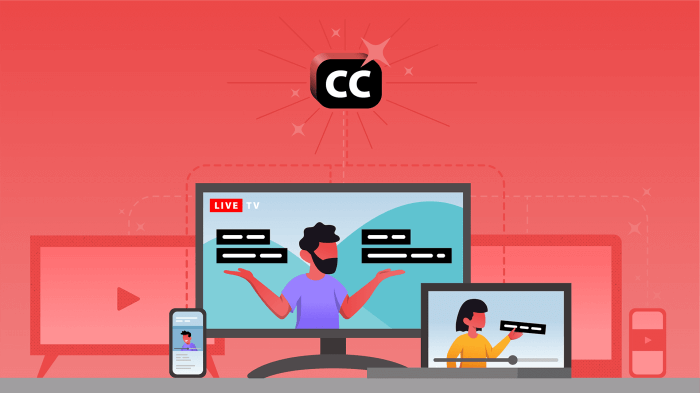 2. What Can I Do If My Subtitles Are Out of Sync
Subtitles sometimes may delay or go faster which would disturb harmony. However, some media player has built-in settings to offer the help to adjust the delay such as VLC. You're able to manually adjust the timecode and sync the subtitles very soon. Simply by going to "Tools > Synchronization" in VLC and putting a negative or positive value to adjust the subtitles, you can see a noticeable change with your subtitles.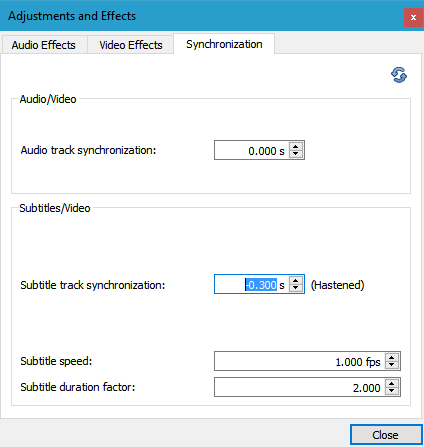 3. How Can I Download Spanish Series with English Subtitles?
Just find the Spanish series you are watching on the subtitles download sites introduced above. When you see the English subtitles option, click to download them. Also, if you use some subtitles downloader like VideoHunter to download Spanish series with English subtitles, make sure that the original videos have such a language option. If not, the downloader could not provide an English download option for you to select.
Extra Tip: How to Add Subtitles to Videos
If you download subtitles as separate files, then when you play the movie offline, you need to add subtitles to the video or merge the video file and the subtitle file completely. These two ways of combining subtitles and video are described in two parts below.
Add Subtitles to Videos for Offline Playback Using VLC
There is no need to over-emphasize the convenience of VLC Media Player in our life and let's get right to the point. To start with how to embed subtitles to a video in VLC, please check if you correctly download subtitles in the format of SRT, SSF, TXT, or others as these are the most popular subtitle formats available to be downloaded by subtitles download sites or software. And the whole process is quite simple:
Step 1. Open the video you would like to add external subtitles in VLC.
Step 2. Click "Subtitle" and tap on "Add Subtitle File". Then select the subtitles you just downloaded.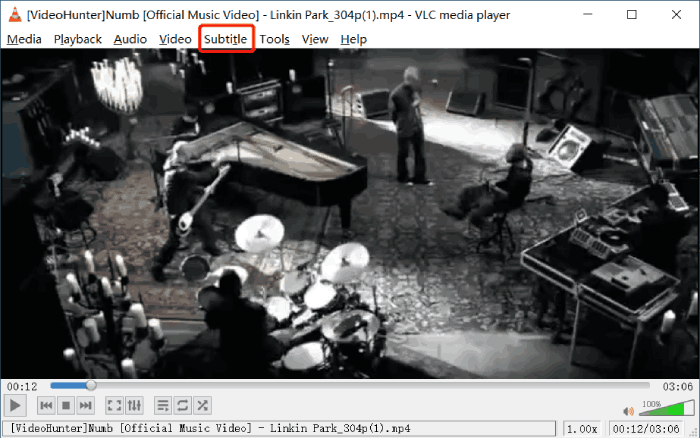 Permanently Embed A Subtitle to a Video using Video Converter
If you need to merge subtitles and videos together, there is no doubt that using a Video Converter is a good way to do it. If you need to merge subtitles and videos together, there is no doubt that using Video Converter is a good way to do it. Here we have selected for you the multifunctional VideoSolo Video Converter Ultimate, which is simple and easy to use.
Step 1. Add the video file in which you want to put the subtitle.
Step 2. Click "+" to add an external subtitle file and preview.
Step 3. Click the "OK" button on the main interface, your video will be delivered with the subtitle embeded permanently.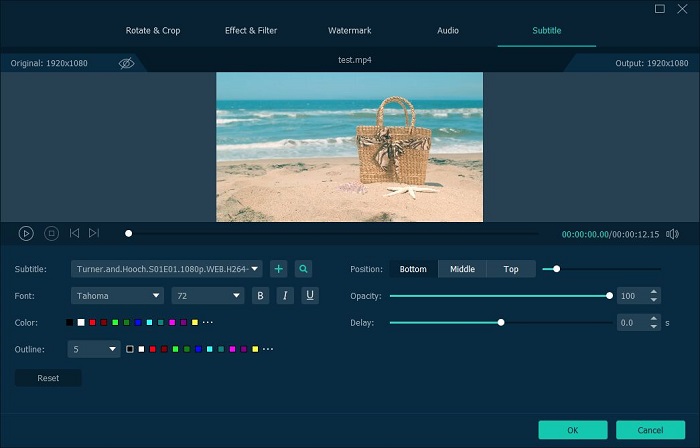 Conclusion
After going through the 10 BEST free subtitles download sites above, which one is your best pick? If you want to download videos with subtitles, then VideoHunter will be a perfect match for you. After downloading subtitles, you can easily add them while playing your favorite films or episodes!