Movies have increasingly become an indispensable part in people's life. It is not only a way for people to entertain themselves and kill time, but also a mean to release their pressure gained from life and work. Although most online movies require people to pay before watching, on YouTube, you can still access many free movie resources and enjoy with good quality. But today, I'd like to bring you a more convenient and enjoyable way to enjoy free YouTube movies, which is to download them for offline playback with a reliable video downloader.
CONTENT Best Legal Place to Watch Free MoviesCan I Download YouTube Subscribed Movies Offline?How to Download YouTube Free Movies in 1080p MP4?
Best Legal Place to Watch Free Movies
Today, most authoratative platforms require people to pay for streaming movies for showing respect to the copyrighted content. Therefore, for those who have limited budgets and want to enjoy free movies legally, YouTube sets some free movies for everyone to enjoy without paying fee. You can easily access these movies in YouTube's "Movies & Shows" module.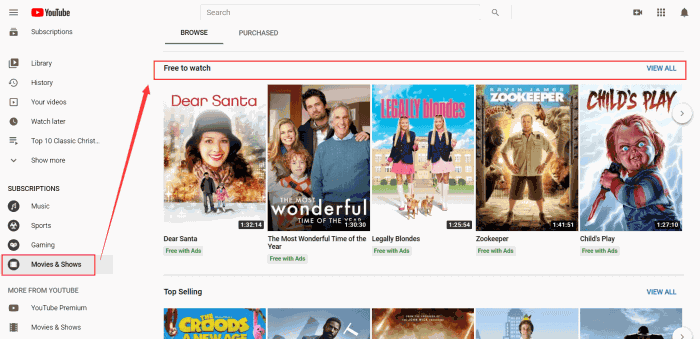 These movies provided by YouTube are completely free of charge and every one can enjoy them online with great resolution. More importantly, they are completely legal for streaming! However, YouTube will add ads into the movies so that your streaming experience can be bordered sometimes.
Except for these free movies, if you directly search on YouTube, you can discover many free movie resources uploaded by both official accounts and individuals. The public YouTube videos can also be streamed for free. And they can be downloaded with free YouTube movie downloader for offline playback.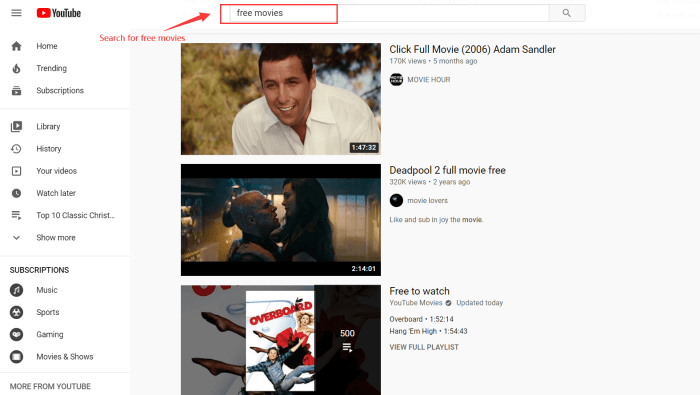 Can I Download YouTube Subscribed Movies Offline?
YouTube processes a large video/audio database, covering resources of all categories. Some movie companies also have cooperation with YouTube, which provide the authority to YouTube for listing their produced movies online, and allows people to purchase/rent the movies for watching. YouTube presents the best visual effect, which can reach 1080p, 4K, and even 8K for streaming movies online.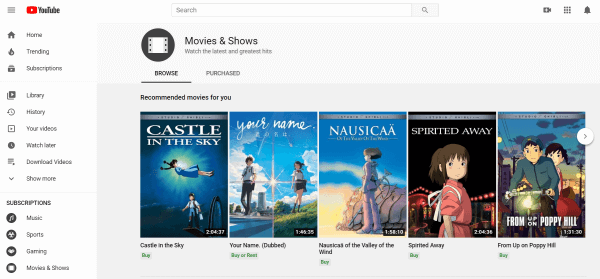 We know that many video downloaders are developed these days, and by virtue of them, we can easily save the YouTube videos for offline playback. However, for YouTube subscribed movies, these powerful video downloaders would also fail in providing such service.
The main reason for this refers to the fact that these subscribed YouTube movies are protected by advanced encryption methods. Video downloaders are not allowed to remove the encryption without asking permission from these companies.
However, instead of these paid-for YouTube movies, these are still lots of free movies resources provided in the platform for people to enjoy without any cost. The way to access them is simple. Just by searching "Free Movies" in the YouTube search bar, it will bring you to countless results that may catch your eyes.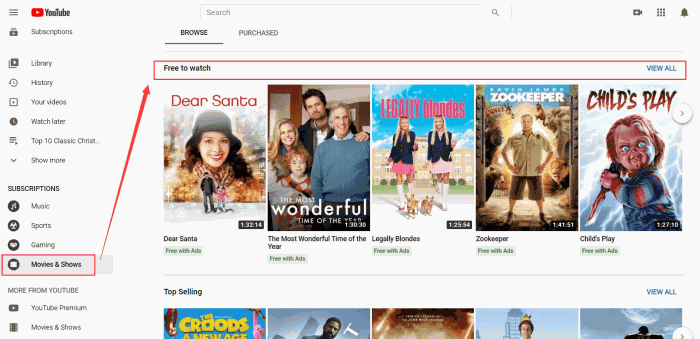 Basically, these free movies are copyright-free and they are completely free for people to enjoy. For such movies, you can absolutely use the video downloader for saving them offline and have a more enjoyable as well as smoother playback. Hence, we'd like to introduce one video downloader that is quite suitable for downloading YouTube free movies, which is VideoHunter. In the next part, I will introduce it to you explicitly.
How to Download YouTube Free Movies in 1080p MP4?
VideoHunter is an any video downloader, which specially does well in downloading YouTube videos. Therefore, this makes it the most ideal YouTube free movies downloader.
First, VideoHunter can provide original qualities for saving YouTube videos such as 1080p, 4K, and 8K. Second, the output videos will be saved in universally supported formats, which is MP4. Last but not least, VideoHunter provides 6X faster speed to enable a more efficient downloading process.
Now let's directly go to preview how can we use VideoHunter to download YouTube free movies with only very simple clicks!
# Step 1. Copy URL of the YouTube Free Movie
When you have searched for YouTube free movies in the platform, scan through the results and find the movie you want to save for watching offline. Then please copy the URL of the movie you choose.
# Step 2. Paste the URL to VideoHunter
Please launch VideoHunter, and enter the main feed of VideoHunter's Downloader (you will be in the interface of its downloader after launching the program on Windows). Subsequently, paste the URL of the YouTube free movie into the downloading bar.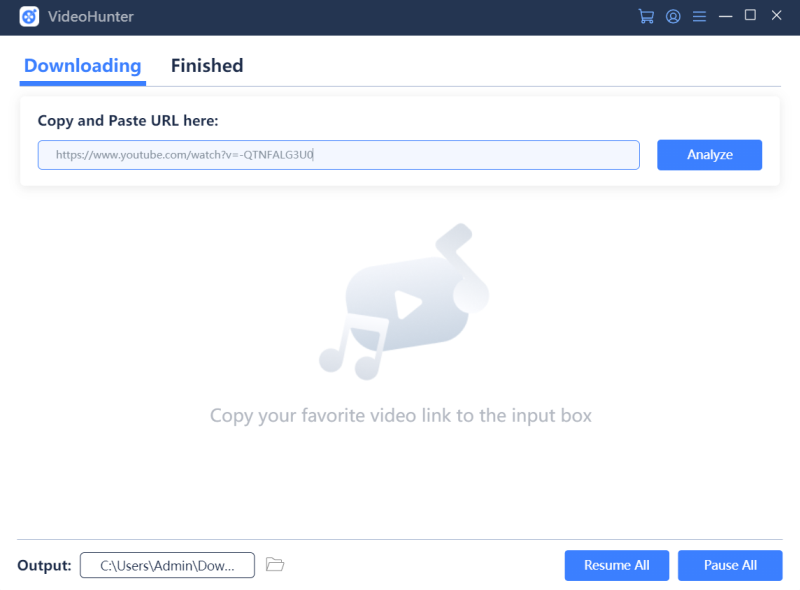 # Step 3. Download YouTube Free Movie Right Away
When the URL is ready, click on the Analyze button and VideoHunter will resolve the link immediately. Subsequently, when the output options provided, select your preferable one and check its option. Finally, hit the Download button and initiate the downloading process.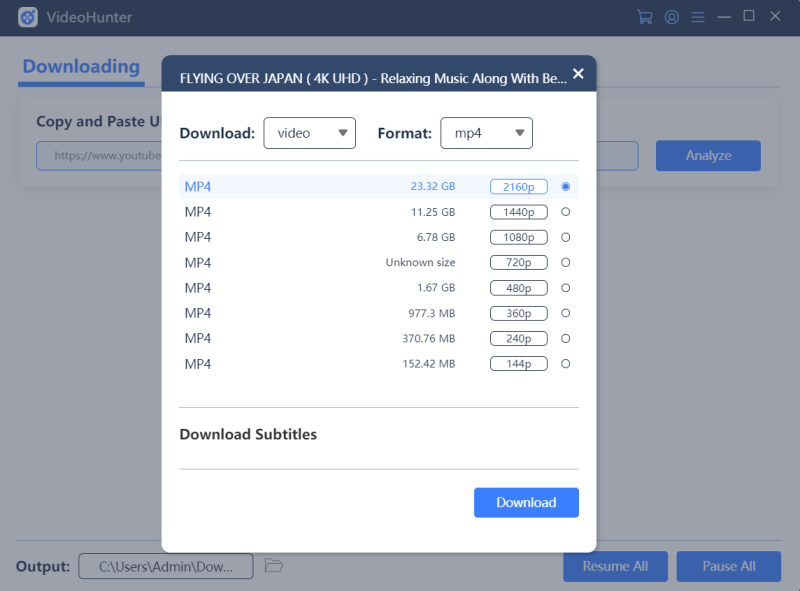 # Tips on Using VideoHunter:
1. VideoHunter is able to download subtitles from original online YouTube videos. However, only the subtitles uploaded in a separate transcript can be detected and downloaded by the program. Also, the subtitles will be downloaded in separate files in SRT or TTML format.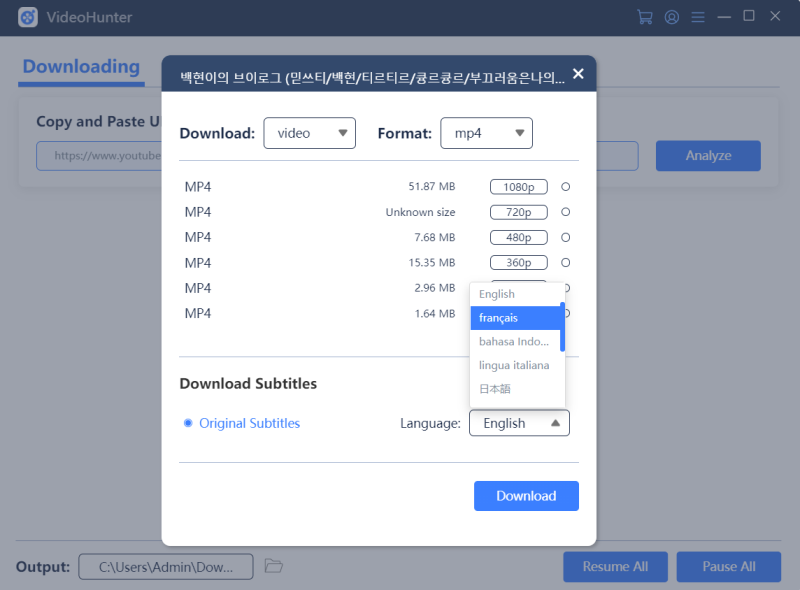 2. You are able to merge the subtitle with the downloaded video for enjoying the offline playback with CC displayed. It will be convenient for foreign audiences to download the videos that are not speaking their languages but provide with subtitle files.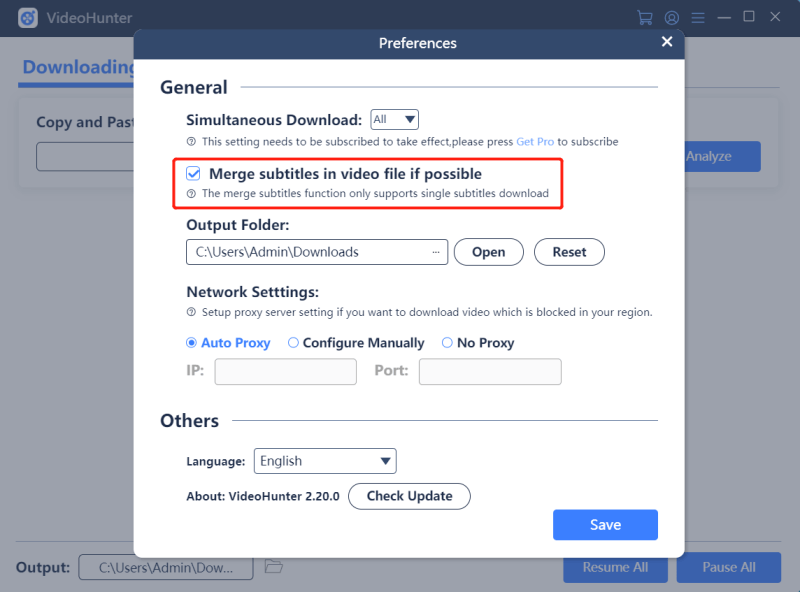 The benefits of downloading YouTube free movies for enjoying offline are obvious. On the one hand, you can get rid of all kinds of playback errors and have a smooth playback; on the other hand, you can get rid of the Internet connection and enjoy the movies at anytime anywhere. Why not try it and bring free to your movie playback experience?
See Full Guide on How to Download Free Movies in 1080p MP4