When there are more and more video downloaders provided on the Internet, it may be hard for you to choose from so many choices, so those with a well-known brand will be more likely to be selected. Freemake, a popular media software provider, also launched a Freemake Video Downloader that can help download online videos from different websites. Before you get started with it, this Freemake review can help you know more features as well as some pros and cons of Freemake Video Downloader.
Tip: Another popular alternative to Freemake Video Downloader will also be provided. If interested, directly scroll download to see it!

CONTENTWhat Is Freemake Video DownloaderBenefits of Freemake Video DownloaderHow to Use Freemake Video DownloaderPros & Cons of Freemake Video DownloaderBest Freemake Video Downloader Alternative: VideoHunterFAQs about Freemake Video Downloader
What Is Freemake Video Downloader
Freemake Video Downloader offers very simple to use function, helping every user to download online videos or audios without doing complex operations, but only by pasting URLs to begin the conversion and download them.
Freemake Video Downloader supports a lot of popular websites such as YouTube, Vimeo, Facebook, and so on, and also provides more than 500 common formats selecting to save downloaded videos/audio. With the software, you can easily keep those online resources you like offline without worrying about losing them from so many new video updates every day.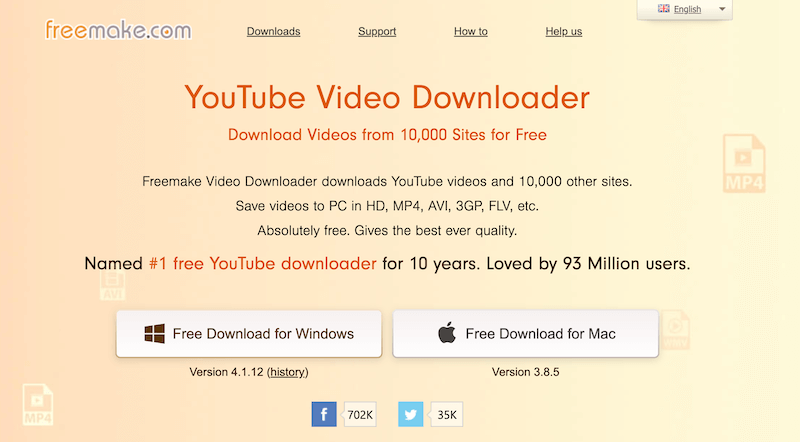 Benefits of Freemake Video Downloader
So, why Freemake Video Downloader is widely chosen by so many users? Of course, the software has provided some attractive features that can help the video download process to be more user-friendly. Now, just have a look at the features that can bring benefits to you.
Supports 10,000+ Sites
Except for being one of the best YouTube video downloaders, Freemake Video Downloader can also support other 10,000+ video sites and helps you to download almost all online videos offline as you want.
Downloads in Any Format
Providing more than 500 output formats, you can select any of them provided by Freemake Downloader based on the supported formats listed by your devices or players, in order to make the downloaded videos or audios playable without limitations.
Provides Best HD 4K Quality
To make sure the offline video playback can keep the original effects to you, Freemake Video Downloader will provide the best quality at up to HD 4K for you to download. If you want to save the videos in smaller sizes, choosing the lower options ranging from 180P to HD 1440P is possible too.
Limits Download Speed
When your network condition is not stable, Freemake Video Downloader will automatically slow down the speed and make sure the performance of your computer is still in the best condition. So you don't need to worry that the software will occupy the network speed while it is processing the online video download.
Provides Proxy to Save All Videos
There is also a proxy provided inside Freemake Downloader, which mainly works to get you to get over the limitations and download those blocked or unavailable videos in your countries, making all contents available to be saved offline.
How to Use Freemake Video Downloader
Except for the above feature, the operation of Freemake Video Downloader is also easy to get started. Now, the tutorial provided will show you how the software works to download online videos for you within just a few steps.
Step 1. Copy the URL of the online video you want to download using Freemake Video Downloader from the web browser first.
Step 2. Then open Freemake Video Downloader and click the "Paste URL" button to convert the URL.
Step 3. When the output format and quality options are provided, select the one you need and click "Download" to save the video offline immediately.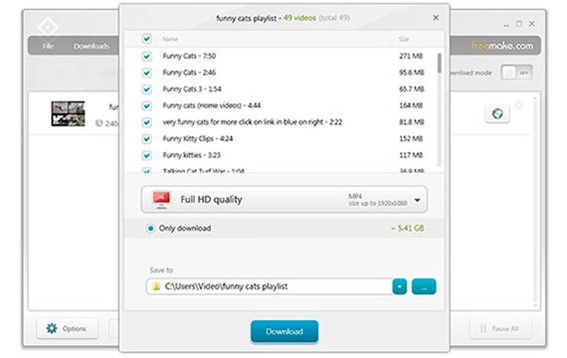 Pros & Cons of Freemake Video Downloader
To conclude, Freemake Downloader has the following pros and cons that may be attractive or disappointing to you. So before starting to install the software, compare its pros and cons first.
Pros
Provides an easy-to-use interface
Supports 10,000 websites to download videos and audio from
Offers 500+ formats to select
Supports the best quality at 4K
Allows to download all videos in a channel at once
Offers proxy setup
Supports selecting Dropbox and Google Drive to save the downloads directly
Cons
The downloading speed is slow
Some supported sites are not actually working to download
It will add watermarks to the downloaded videos while using the free version
Some extensions may need to be installed and may easily cause errors
Best Freemake Video Downloader Alternative: VideoHunter
As you can see, when Freemake Video Downloader still contains such disadvantages, this Freemake alternative, VideoHunter, maybe a better choice for you.
As a powerful video downloader, VideoHunter also includes all benefits that Freemake can bring, including the ability to download online resources from most streaming sites, offer common formats such as MP3 and MP4 to save the downloaded videos/audio, provide a proxy setup to download blocked videos, and allow you to download the playlists or channels at once to save your time.
More than these basic features, VideoHunter works even better from the following sides:
Offers the best quality at 8K to download videos (Freemake: 4K)
Speeds up the conversion to 6X faster in batch (Freemake: will limit the speed especially when network is not stable)
Supports downloading subtitles and merging with the videos (Freemake: not provided)
Keeps its service completely safe without extensions installed (Freemake: need to install more extensions if you want more functions in the software)
Offers the free plan but doesn't add any watermarks (Freemake: watermarks will exist while downloading online videos using the free version)
Also, VideoHunter is easy to use too. Now you can also see the operation tutorial here and learn more about the software.
Step 1. When you have copied the URL of the video, open VideoHunter on your computer.
Step 2. Before entering the downloader, finish the account signup and sign in first.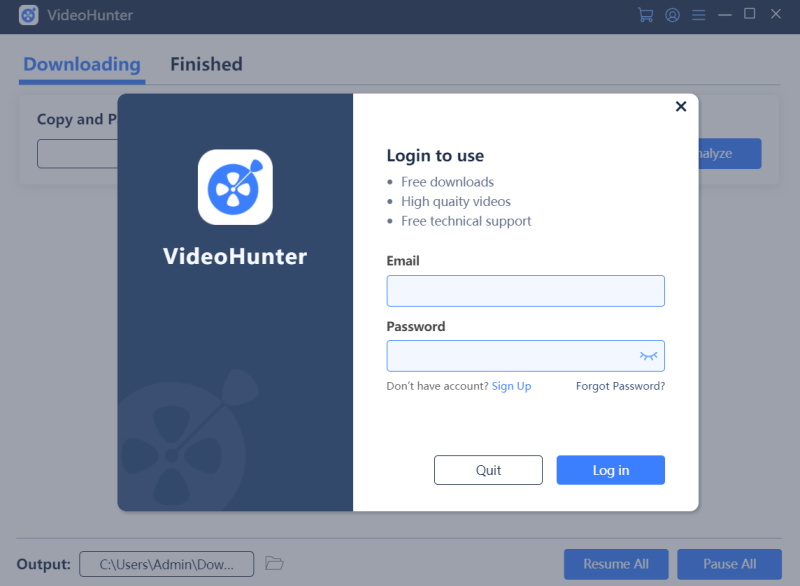 Step 3. After signing in and pasting the URL to the download bar, click the "Analyze" button.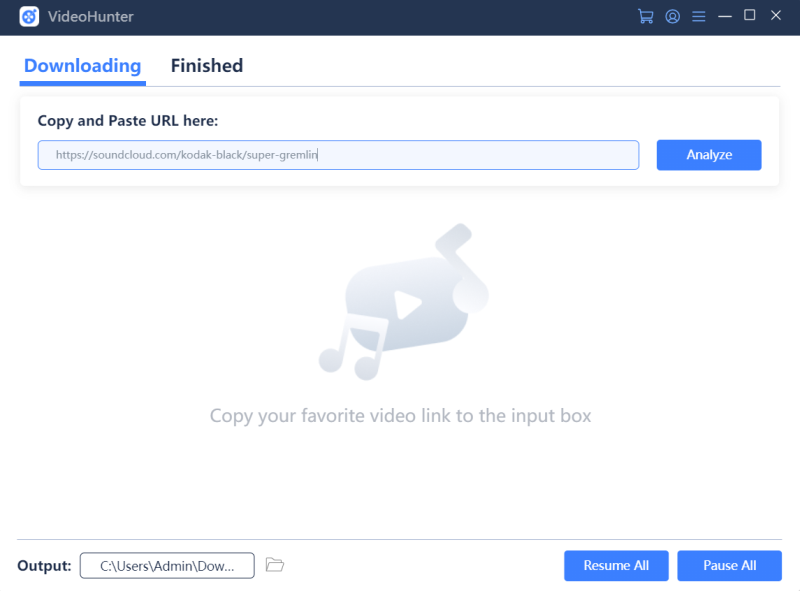 Step 4. Choose the provided output format and quality, even a subtitle language, then press "Download" to save the video offline.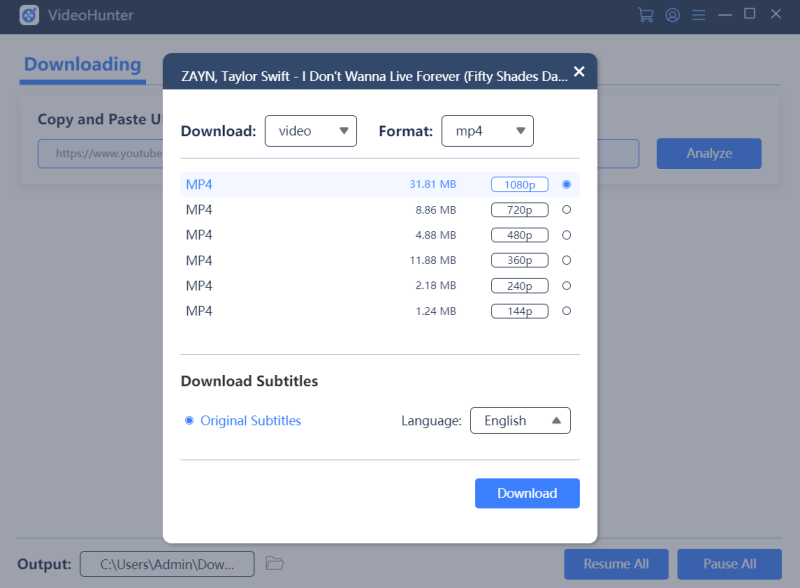 More Alternatives You Can Try:
Top 5 KeepVid Alternatives to Download Online Videos
ByClick Downloader Review: Pros, Cons, and Its Alternative
4K Video Downloader Review: Is It the Best Video Downloader?
FAQs about Freemake Video Downloader
Is Freemake Video Downloader Safe?
If you your thinking about whether is Freemake safe or not, you can see that its official website is clean and without any ads. In the software, it will have a pop-up window recommending paying for its premium package, but there are no other messy ads at all. According to many media and users, the software is safe to use.
However, if you want more functions from Freemake Downloader, you would need to install extra extensions to process. Under such conditions, the safety of the software would become not clear.
Is Freemake Video Downloader Free?
Freemake Video Downloader is a free software to use. However, there have certain disappointing points while using it. For example, it will add a watermark to the video you are downloading.
Of course, if you want to avoid it, Freemake Video Downloader provides a premium package. By purchasing it and you can skip these limitations that would exist in the free plan.
In Conclusion
After reading this Freemake review, you can find that though Freemake Video Downloader is a popular choice for many of you to download online videos or audio for free, it still has many unexpected disadvantages. Based on these, if you want a better alternative to Freemake, VideoHunter is the best software you can try. Read this VideoHunter review and learn more about it now!