TikTok has been the most popular short video streaming and sharing platform in the world, and you can discover many interesting ones on it. But the in-built TikTok saver would add watermarks to the TikTok videos you saved to camera roll. Therefore, if you also want to download no-watermark videos from TikTok more conveniently, these 6 best TikTok savers without watermark may be your choice. Now, read them and take any of them to try.
Contents
Best TikTok Video Savers for Windows/Mac (2 Easy Options) Best TikTok Saver Apps for iPhone/Android (2 Workable Options) Best Online Free TikTok Link Savers Without Watermark (2 Quick Alternatives)
Best TikTok Video Savers for Windows/Mac (2 Easy Options)
If you consider having a smooth and high-quality TikTok video download experience, you are highly recommended to use a desktop TikTok saver, which can work fluently and help you download TikTok videos in a more stable way. Here are the two best TikTok video saver without watermark you can have a try.
VideoHunter TikTok Downloader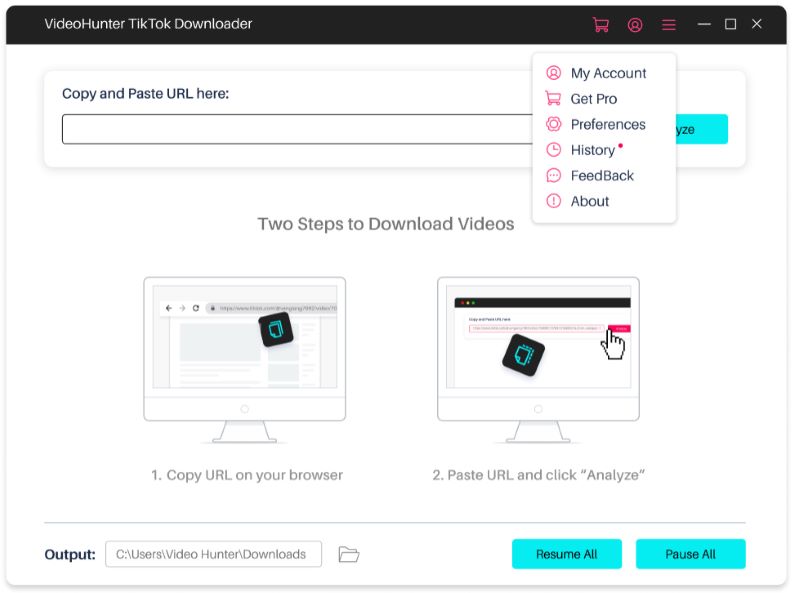 The most recommended TikTok video downloader for Windows/Mac computers would be VideoHunter TikTok Downloader. Design to download videos from TikTok, the software can help you save any TikTok videos offline on desktops with easy clicks. It only needs a TikTok video link to process the video download, which is also considered one of the best quick and convenient TikTok link savers that can provide easy help to download TikTok videos without watermarks.
As VideoHunter TikTok Downloader offers high resolution up to 1024P to download online videos, you can surely save any TikTok video offline with its original quality. The software also offers up to 8X faster speed and lets you batch download TikTok videos at once, allowing you to save much time instead of processing the downloads one-by-one.
Pros:
Downloads videos from TikTok in high quality.
Provides high quality resolution such as 1024p to select.
Offers common MP4 format to downloaded videos compatible with more devices and software without watermark.
Supports batch downloading videos and playlists at once.
Provides up to 8X faster speed to make video download much quicker.
Sets the in-built proxy settings to download even restricted videos from TikTok and other websites.
Cons:
Some functions are locked while using the software for free.
4K Tokkit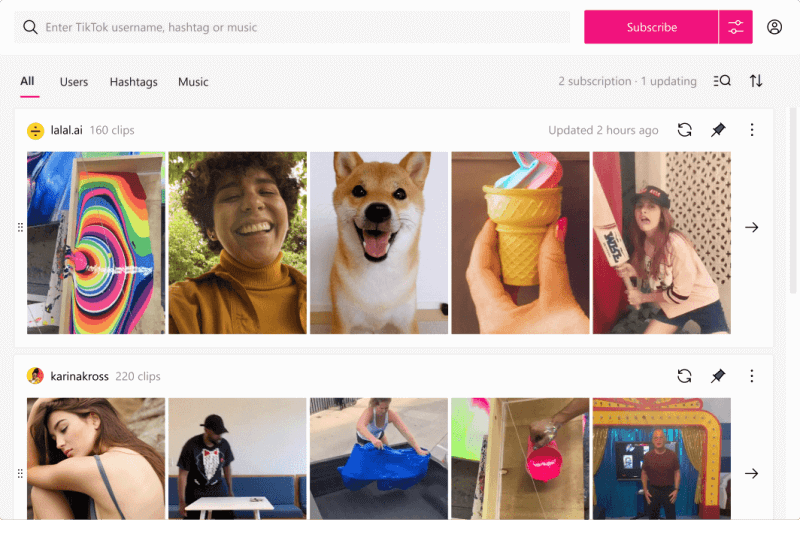 Another TikTok saver for computer users should be 4K Tokkit, which is released by a popular brand named 4K Download. This TikTok video saver can work to help you download TikTok videos directly from accounts or hashtags in batch, letting the video download efficiency be even higher.
However, unlike VideoHunter's high-quality outputs, 4K Tokkit only offers up to 720P to save TikTok videos offline. But surely, it won't add any watermarks to them like the officials do. Therefore, 4K Tokkit is still one of the best video saver for TikTok if you want a fast way to download all TikTok videos from one account or your favorite hashtags at once.
Pros:
Allows to download TikTok videos of one account or hashtag at once.
Supports keeping captions for downloaded TikTok videos.
Supports downloading videos from private TikTok accounts.
Provides proxy setup to download TikTok videos uploaded in other countries.
Cons:
Only offers up to 720P to download TikTok videos.
MP4 is the only output format you can select.
Its watermark removal function is still on the way.
Only allows to download videos from TikTok and no other platforms supported.
Best TikTok Saver Apps for iPhone/Android (2 Workable Options)
Instead of using a computer, many of you would be used to streaming TikTok videos on mobile devices such as an iPhone or Android phone. So here, there are also recommended TikTok saver apps you can try using to download TikTok videos on iPhone/Android. Both of them are watermark-free. These two TikTok savers without watermark are introduced in detail as follow. Just keep reading it.
Android TikTok Saver - VideoHunter for Android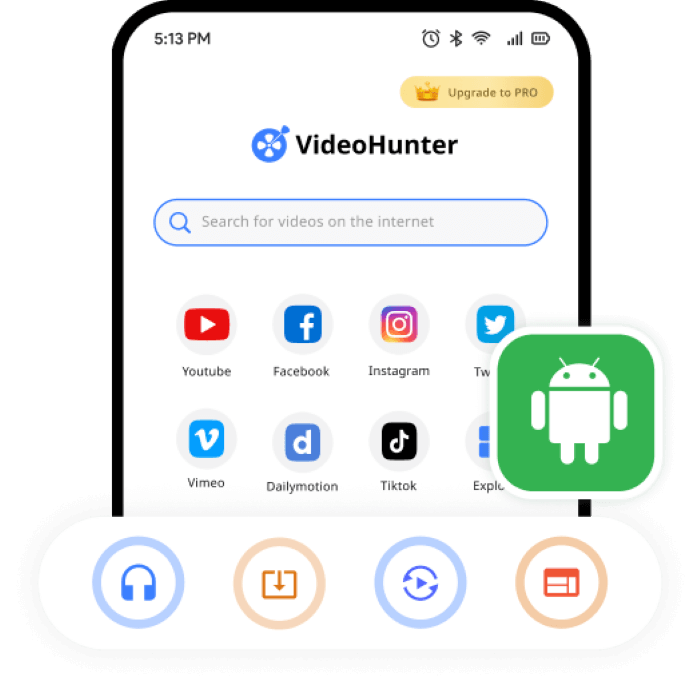 For Android, you should not miss the best TikTok video saver no watermark, which is VideoHunter for Android. Like its desktop version, you can download multiple videos at once with the batch downloading function. By directly saving the videos to your Android SD card, you don't need to worry about wasting internal storage at all.
Also, you will find VideoHunter for Android very easy to use! You don't even need to copy a TikTok video link because the app has provided an in-built search function to let you directly browse TikTok videos and download them on Android! VideoHunter for Android has made the TikTok video download much easier.
Pros:
Supports downloading TikTok videos on Android with up to 8K quality and no watermarks.
Provides the in-built search function to directly search TikTok videos and download without copying links.
Allows to batch download 4 videos at once.
Offers ultra-fast speed to finish downloading videos within seconds.
Extracts music from TikTok videos and converts it to MP3 with the best audio quality.
Cons:
Some functions must be paid for rather than used for free.
TikTok Saver iPhone - TikSave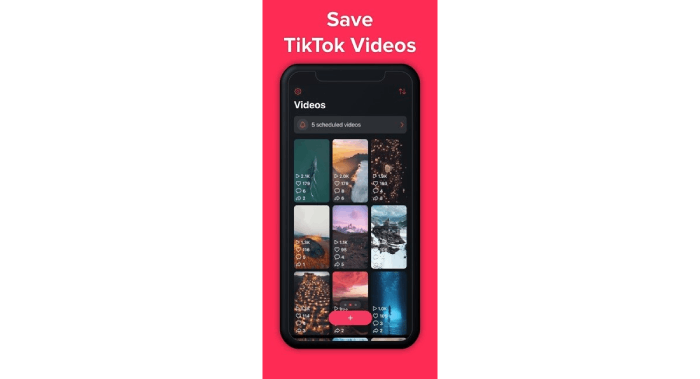 Another recommended TikTok video downloader app is specially for iPhone users, which is TikSave. You can directly find this iOS app in App Store and install it to begin downloading TikTok videos offline. Apart from being a TikTok saver, the app also helps you to group TikTok videos and manage the categories based on your needs. More than that, using it to optimize your content for uploading to TikTok is also supported.
Pros:
Supports saving TikTok videos from the timeline without watermarks added.
Supports bookmarking profiles to find TikTok videos quickly.
Offers insight analytics to see the data of your uploaded TikTok videos.
Save TikTok videos as collections to enjoy more conveniently.
Cons:
Doesn't allow you to customize the output quality as you want.
Best Online Free TikTok Link Savers Without Watermark (2 Quick Alternatives)
Now, also see some online free TikTok video savers that need no software installed but still work fluently to help download TikTok videos without watermark. As they can be accessed online, you can use these TikTok savers on any device whenever you need them.
SSSTikTok

SSSTik is one of the most popular video saver for TikTok that doesn't need to install a software on devices at all. It only needs a TikTok video link pasted to the search bar, then the conversion will start and you can directly download the converted TikTok video offline once the output options provided.
As a TikTok saver without watermark, SSSTik can download the original TikTok video and you can edit it and also repost it to other media player. You can use this online TikTok link saver on all devices without limitations.
Pros:
Doesn't need to sign in using its function.
Adds no watermark to the downloaded TikTok videos.
Supports all browsers and can be used on different systems.
Provides fast speed to convert and download TikTok videos.
Cons:
Many ads are on its web pages.
The output quality is not original.
Sometimes the conversion will fail.
SnapTikVideo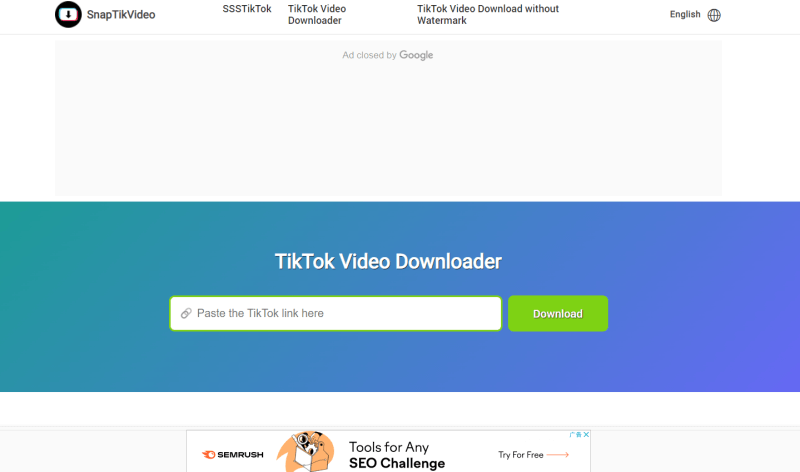 Another online TikTok saver you can try is SnapTikVideo. With a simple website design, you can quickly know the way using this online platform to download any TikTok video offline. Like other TikTok link saver, simply by pasting the URL of the online TikTok video to its search bar, you can convert it and download with any quality provided by the tool.
As SnapTikVideo doesn't need an account to use the service, you can directly open the platform and just start downloading the TikTok video you need. SnapTikVideo will not add watermarks to affect your video playback experience offline.
Pros:
Offers simple interface to let you download TikTok videos conveniently.
Doesn't need an account to get started.
Provides TikTok video download feature completely for free.
Offers more language versions for users around the world to use.
Cons:
The TikTok video download will fail sometimes.
No high-quality options are provided to download TikTok videos.
Ads contained on the platform.
In Conclusion
No matter what devices you are using, you can always find the best TikTok video saver to help from the 6 recommended ones introduced in this article. Just compare them and choose the best one to download TikTok videos without watermark now!