The popular online video downloader, VidPaw, once provided the speedy, trustworthy, and quality-ensured function to help millions of users save online video/audio resources for local streaming. With VidPaw, you can process the quick and effortless online video download regardless of what devices you are utilizing, as its great compatibility enables VidPaw to run well with all web browsers and device systems.
Disappointedly, the seamless experience provided by VidPaw has been a history, and many of you probably discovered the tool unavailable to work sometimes, leading to trouble of downloading online videos or converting YouTube to MP3. Therefore, this post will concentrate on providing the 3 best VidPaw alternatives to help you out. Please scroll down and dive in reading.
Are You Finding More Online Video Downloader Alternatives?
CONTENTBest VidPaw Alternative to Download Online VideosVidPaw Alternative Software to Download Online Videos on PCVidPaw Online Alternative to Download High-Quality VideosVideoHunter VS ByClick VS SaveFrom: Which Is The Best?FAQ: Is VidPaw Safe?Extra Tips: 4 Ways to Fix VidPaw Not Working
Best VidPaw Alternative to Download Online Videos
The most perfect VidPaw alternative for desktop users is definitely VideoHunter. With over 1,000 streaming sites supported, VideoHunter provides powerful online video download function with a series of sparkling features to you. From the exporting quality, the program supports detecting the best 8K definition for selection. Furthermore, VideoHunter also supports converting YouTube to MP3 of the highest 320Kbps to ensure a nice music streaming effect. You can put great trust on the results brought by VideoHunter!
In addition, if you concentrate on the efficiency and productivity as well, VideoHunter supports up to 6X faster speed plus the batch download feature to process the video download for you swiftly by speeding up the CPU. As the best rated YouTube downloader, the most appropriate feature of VideoHunter should be its ability to download YouTube videos from playlists and channels at once. You will definitely find it a time-saving program but with great quality ensured.
Key Features:
Support downloading online videos/audios from 1,000+ sites.
Best definitions such as 720P, 1080P, 4K, and 8K are supported to select.
Optimal formats of great popularity such as MP3 and MP4 are provided.
Great productivity to process YouTube playlists, channels, and videos of all types to download at once.
Multi-thread download feature is supported to save lists of videos simultaneously.
Subtitles merging feature to help keep online videos of different languages as you wish.
Proxy setup feature is supported to bypass regional restrictions in one shot.
In the following, please take one more minute to walk through the manipulation guidance and learn the way to download online videos with this professional VidPaw alternative, VideoHunter:
Step 1. After installing the program, please run it and create an account to log in.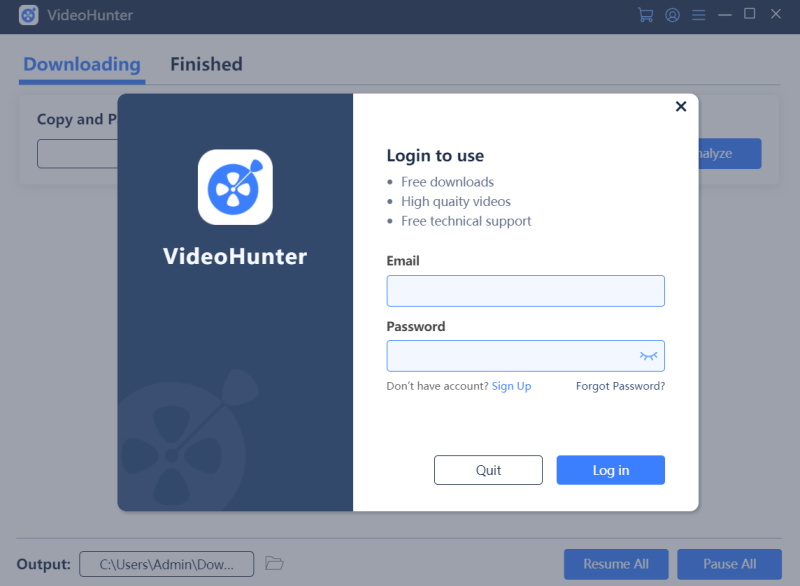 Step 2. Subsequently, please open the video site on which you wish to discover and download online videos/audios from. After copying the URL of the resource, turn to VideoHunter and please paste it to the downloading bar provided on the main feed.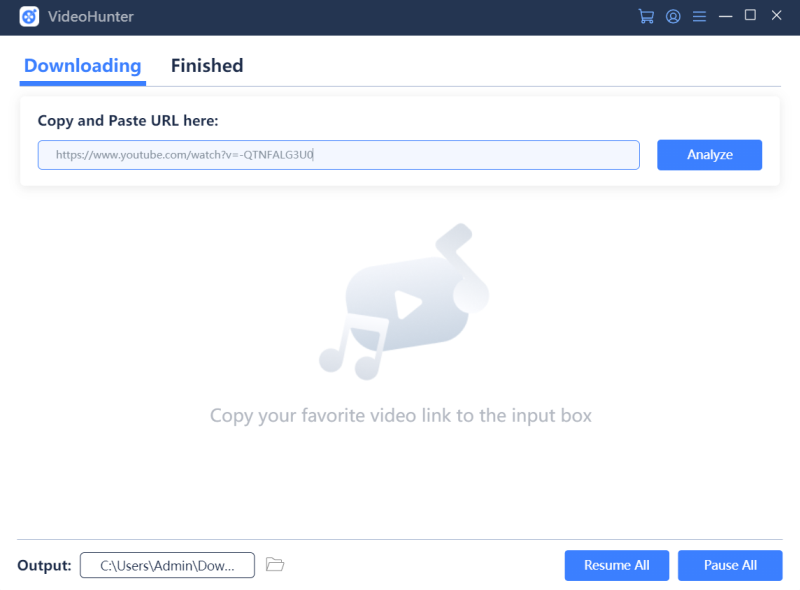 Step 3. After clicking on the Analyze button, VideoHunter will function to resolve the URL. Just a moment, the output options will be provided to you.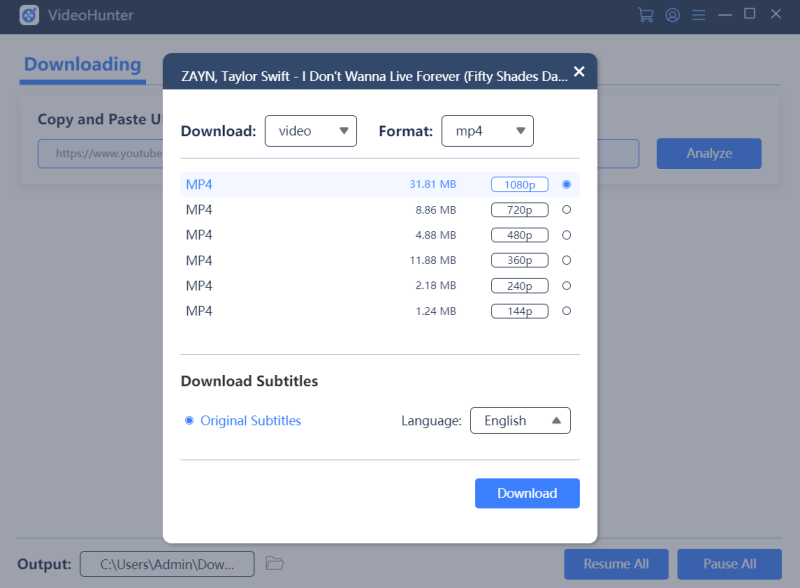 Step 4. Please select the output format and quality for downloading the video/audio offline. You can select the subtitle option if VideoHunter detects the subtitle files for you. Simply by clicking on the Download button, the online video/audio will be saved offline in no time.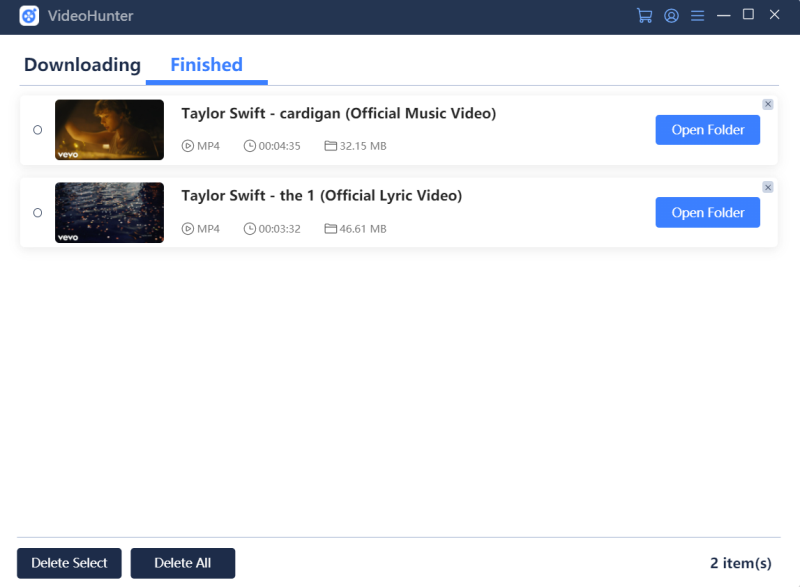 Once the download is completed, you can directly access the output folder and play the local video/audio files by turning to Finished module and click on the Open Folder button.
VidPaw Alternative Software to Download Online Videos on PC
Another alternative to VidPaw app for Windows users would recommend ByClick Downloader for you to try. According the full review on ByClick, the program also supports powerful online video download function for 40+ streaming sites. Although the amount is less than VideoHunter, it will also provide optimal definitions from 720P to 8K for selecting as you wish.
Meanwhile, its great efficiency is also guaranteed by the batch download feature and accelerated performance to save multiple video downloads at once. Even for YouTube playlists and channels, it is possible to proceed converting all containing videos just by one single URL in one shot.
Key Features:
It is able to download online resources from 40+ popular platforms.
Single videos, YouTube channels and playlists, Instagram pages download are all well supported.
Best definitions are provided to export local video files.
For private videos, the program supports detecting and extracting for storing offline without permissions required.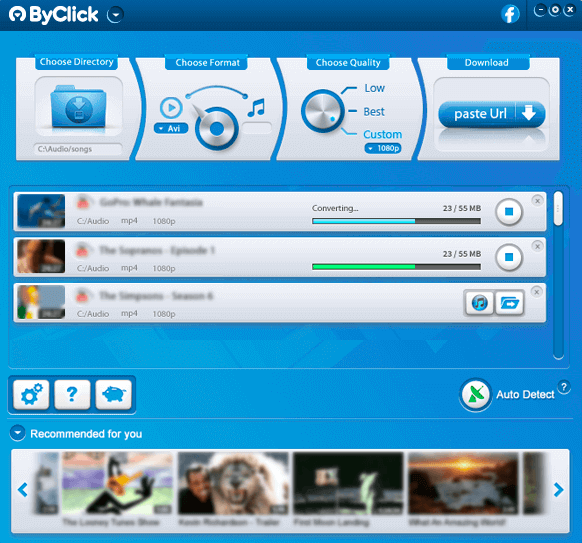 VidPaw Online Alternative to Download High-Quality Videos
Replacing setting up a desktop program, some of you probably prefer an online VidPaw alternative to process online video download like the online VidPaw MP4 converter can provide. If this is your target, SaveFrom online downloader is the option you shall not miss. With the easy-using online video download service and quick converting speed provided, you only need to paste a single URL to the downloading bar and wait for the speedy performance to resolve it and offers available options to download the video offline.
As an online tool, you will not be asked to sign up for an account or install any extension and program to proceed with the video downloading. On all devices, you can access the tool and download online videos in one shot.
Key Features:
Support more sharing sites than YouTube only.
It needs only one URL to download online video just by clicks.
Optimal output options are provided for selecting freely.
This is a free online tool without needing to charge at all.
It is compatible with more popular browsers on all devices.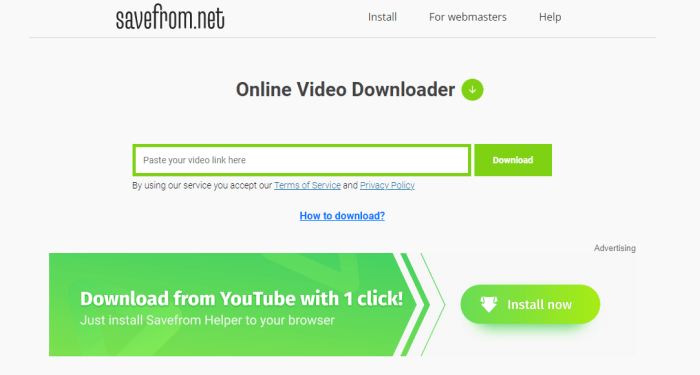 VideoHunter VS ByClick VS SaveFrom: Which Is The Best?
After learning more about these 3 selected VidPaw alternative, please go further to compare their abilities and features to sort out the best one for yourself through the following comparison table:
| | | | | | |
| --- | --- | --- | --- | --- | --- |
| Method | Quality | Speed | Available Formats | Batch Download | Supported Video Sites |
| VideoHunter | Best at 8K | 6X faster | MP3, MP4, WEBM | √ | 1,000+ |
| ByClick Downloader | Best at 8K | Fast | MP4, AVI, FLV, WMV, MP3, AAC, M4A | √ | 40+ |
| SaveFrom | Best at 720P | Fast | MP3, MP4 | X | 10+ |
FAQ: Is VidPaw Safe?
For the first-time users of VidPaw, you may wonder why so many other users are seeking a VidPaw alternative? Is VidPaw safe to use?
Don't worry as VidPaw is a completely secure online platform, with technologies developed to safeguard all performances on the website. However, the stability of the download function is still needed to be improved as many users would report the VidPaw not working issues, especially in recent days when the platform is less under maintenance. Therefore, seeking a backup to VidPaw is essential if you have greater needs in downloading online videos on a regular basis.
Extra Tips: 4 Ways to Fix VidPaw Not Working
As mentioned, if you unfortunately encounter with the VidPaw not working error, the following 4 ways can be the ways assisting you to work it out. Please take them when you are in need.
Way 1. You can try reconnecting to a stable Wi-Fi as VidPaw may fail to work because of the poor Internet connectivity.
Way 2. Clear the browser cache is another solution to resolve VidPaw not working, because the overwhelming data may get corrupted, leading to ensuring normal performance of VidPaw function.
Way 3. Please check whether the online video you are trying to download is restricted. If yes, you will not succeed in downloading it through VidPaw.
Way 4. Please also consider whether VidPaw has supported the video sites from which you try to download online videos/audios. If VidPaw has not been compatible with it yet, it won't be possible for you to complete the download successfully. To resolve this, you can contact VidPaw to add support or directly switch to try VidPaw alternative to download the videos offline.
Final Words
VidPaw has helped many users to download online videos without any program or extension installed. But when VidPaw not working issue occurs, finding a VidPaw alternative becomes a skillful work you need to do. Please compare the 3 best recommendations in the post, and sort out the best one to prepare as backup.