Rather than streaming, using a video and music downloader has significant benefits. There are a number of programs that let you download videos/audios from a number of sites to MP3, MP4 formats, including YouTube, Facebook, Twitter, Instagram, SoundCloud, Vlive, Bilibili, and so forth. But very few supports as many sources as VideoHunter. In fact, the software lets you paste a link from any of over 1000 popular video, music, and social media sites to quickly download content to your computer. The following will introduce all benefits of downloading music and video with VideoHunter. Also, you will get to know some tips for choosing a reliable music downloader program as well as an online video downloader app.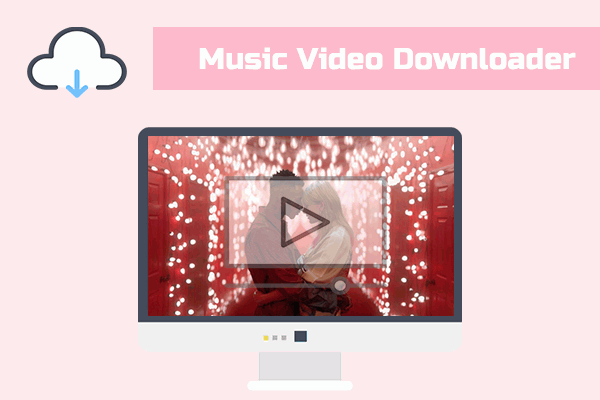 CONTENT Why and How to Choose a Music and Video Downloader?Best Music and Video Downloader for Windows & Mac - VideoHunter: An In-Depth AnalysisFAQs on Downloading Music and Videos Online
Why and How to Choose a Music and Video Downloader?
If you love music, you like to listen to your favorite tunes whenever the feeling strikes. But this is not possible when you don't have internet connectivity where you are. Here is where the best music downloader comes in. It helps you download music free to computer as well as thousands of high-quality videos from most popular music and video platforms. Therefore, you can store these music and video files in your phones or flash drive so that you can enjoy them offline anytime you want. Here are some tips for you to choose an ideal music and video downloader.
# 1. The more quality options it provides, the better
The purpose of such downloaders is to acquire the highest-quality videos possible. Normally, an excellent music and video downloader will give you several output video quality options after you provide the video URL. Of course, the type of file you're downloading has a significant impact on the quality available. Video quality can reach 1080p, 2K, 4K, or even 8K in certain conditions. It is reasonable that you want to get best quality of a video. And quality option should be the top factor to consider when choosing a downloader.
# 2. Good downloading speed really matters
The other main reason you need a downloader is because of its speed. You would like to download files within a short time and get time for other things. So a music downloader for PC should always ensure a fast download feature.
3. Ability to grab videos or audio from YouTube and other music sites
Given the fact that YouTube is the biggest video hosting site, many of us prefer watching videos or listening to music on YouTube. Content from YouTube is always engaging. And it will be definitely wonderful if you find a downloader that has the ability to get YouTube videos.
Commonly, this type of downloader can even store the whole YouTube playlist for offline viewing on media devices. And if you insert a playlist link into the download area of the software, the downloader usually will thoroughly evaluate the playlist and allow you to download all of the recordings at once. Using filters to narrow down your YouTube video search can beneficial. You may also save the results of your search for later use.
Meanwhile, if you're a music aficionado, you will definitely fall in love with a powerful music downloader that supports the most popular music sites such as Dailymotion, Vimeo, Bandcamp and so on. This kind of music downloader would be good news and great help for storing their favorite music.
# 4. Batch downloading helps save time
The simplest moment to download multiple videos at once is when a downloader provides the mass download option. Because you won't have to wait for each video to download sequentially, you'll save a lot of time. All of the chosen videos will be supplied with extreme caution.
Best Music and Video Downloader for Windows and Mac - VideoHunter: An In-Depth Analysis
VideoHunter is a top-notch downloader. The videos are available for download from a variety of sources, including Soundcloud, Snapchat, social media sites, and others. You can browse and download videos in a wide range of styles with VideoHunter. You have the option of selecting your preferred resolution and share the video directly from the app. The software is very adjustable and features a user-friendly interface. It facilitates faster downloading. Moreover, the downloaded media is automatically saved to the memory of your device, where you can sort it into music and movie sections. See the other sparkling features in below.
Powerful Online Video Downloader
VideoHunter as the best online video downloader now supports to downloader videos from 1000+ sites including YouTube, Instagram, Twitter, Facebook and so on. That is equivalent of an all video downloader.
Best App for Downloading Music
VideoHunter now develops more and more supports for music sites and becomes one of the best music download software. You can download music videos mp4 from Vimeo, Dailymotion, Vlive, Bandcamp, Soundcloud and so on. That's the reason why it stands out from a plethora of video downloader.
High-quality and High-efficiency Output
Because it covers the bulk of your demands, VideoHunter is quite simple to use. For example, VideoHunter offers a rather high-quality service for downloading YouTube videos: By integrating YouTube with VideoHunter, you may access all of the video resources you need, as well as download and listen to the latest music. This is quite good.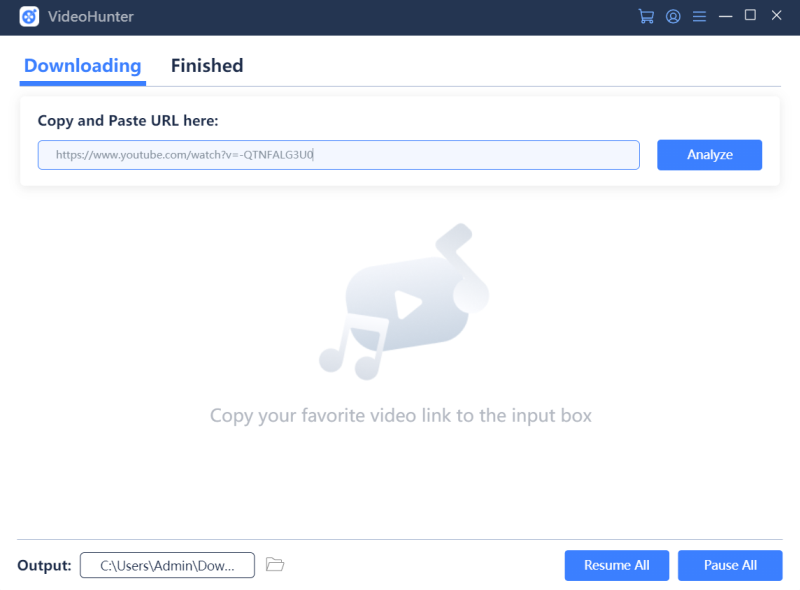 The download speed is fast: downloading many video clips in one go takes only very few minutes on average. Furthermore, one of the most useful features for user is the tendency to download YouTube soundtracks. It takes less time this way.
With VideoHunter, you may get recordings from over 1,000 distinct video/audio streaming sources. The usual MP3, MP4, and WEBM trade groups are offered for encoding your downloaded web video/audio for adjustable offline viewing. The finest video output quality is freely selected, including 1080p, 2K, 4K, and even 8K, with sound up to 320kbps enabled.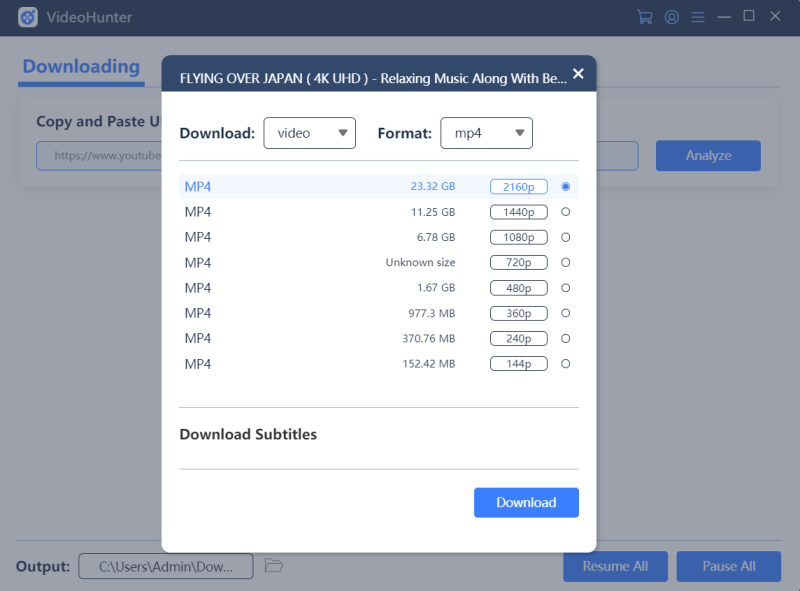 In-app VPN Integration
For Windows and Mac, VideoHunter is essentially the greatest HD video downloader. Its all-in-one capabilities make downloading videos, extracting audio, and converting media file formats a breeze. To meet all of its customers' needs, VideoHunter has even developed an entirely new video downloading solution. You can even set up an in-app VPN both for Mac and Windows users! You can download videos that aren't available in your area and get past prohibitions by establishing up a link.
Users' devices are at risk since these internet video downloaders are routinely inundated with intrusive adverts. The downloading services are insecure, and some of them impose restrictions on consumers who want to save high-definition videos from the internet.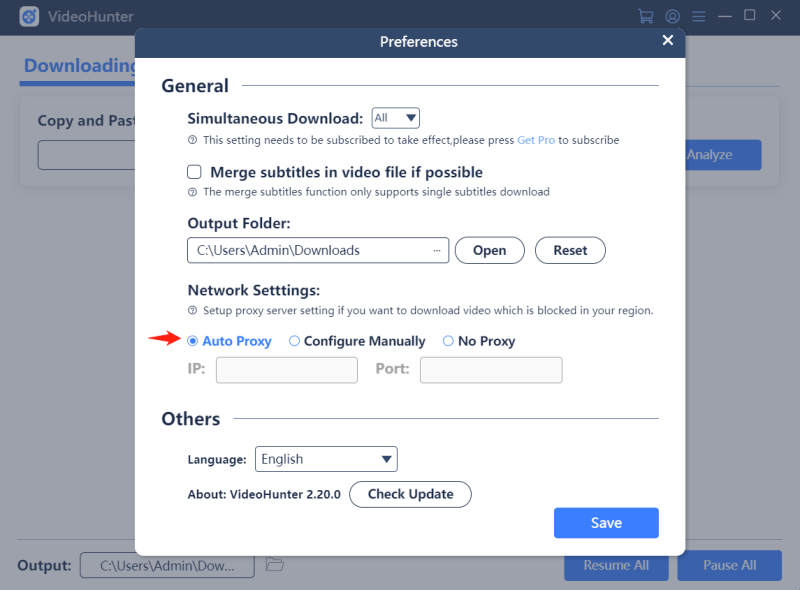 However, assessing a soundtrack requires longer effort than evaluating a single video (this function is only available on Mac device now). Following the completion of the development, the download speed will be raised to ensure that all jobs are downloaded as quickly as possible.
On the other hand, these concerns will not occur on VideoHunter and help ease your worries. Thanks to its clean and ad-free design, VideoHunter will provide a completely safe platform for users to acquire high-quality internet videos. With VideoHunter, you may download videos in the most excellent, efficient, and pleasant way possible.
Download and Merge subtitles as You Need
VideoHunter now releases the latest feature that supports to download not only YouTube playlist to save you tons of time, it also supports downloading and merging subtitles at the same time. As most video downloader on the market only supports to download subtitles in an independent file, this feature helps VideoHunter become a more competitive music video downloader.
If the video contains subtitles, you can get the the built-in subtitle downloader to retrieve them. You can save all of your comments and subtitles in an SRT/TTML document prepared using VideoHunter.
Related Reading: [Guide] How to Download Subtitles from Online Videos
Thanks to built-in speed technological advances, the downloading speeds of VideoHunter can exceed 6X faster. It is also possible to download many files at once.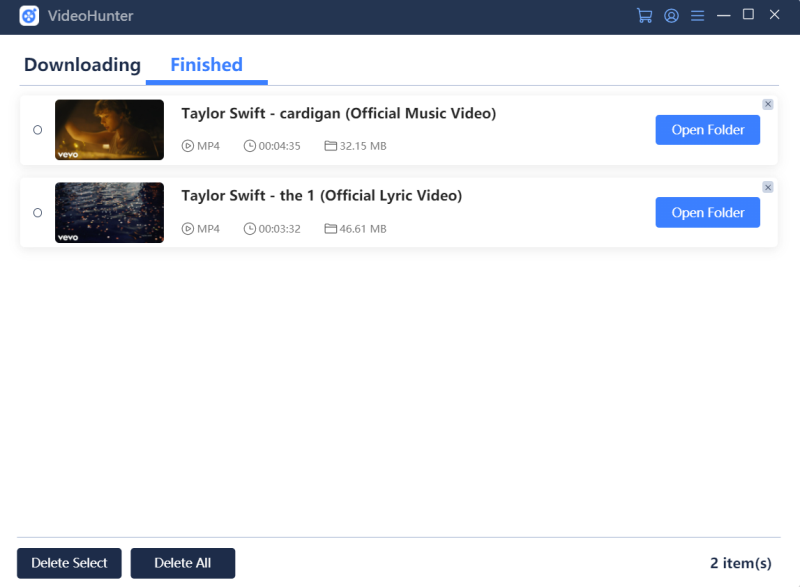 A Tutorial Video on How to Download Music Video with VideoHunter
# VideoHunter costs how much?
The Basic Feature is absolutely free and allows you to download up to 3 single movies each day.
* 480p movies can be downloaded.
* The monthly subscription for each device costs US$9.95 and can be discontinued or resumed at any moment.
* The number of downloads you can make each day is unlimited.
720p, 1080p, 4K, and 8K are all offered in download.
* The entire YouTube site is free to download.
* Massive media downloads.
* Constant technical service.
The yearly subscription for two device costs US$29.95 and can be discontinued or resumed at any moment.
Some of the characteristics are as follows:
* You have an unlimited amount of downloads per day.
720p, 1080p, 4K, and 8K are all accessible.
* The entire YouTube playlist is available for free download.
* Massive video downloads.
* Multiple devices can be used to log in.
* Constant technical support.
FAQs on Downloading Music and Videos Online
# What is the most optimal video format for output?
There are a number of fantastic strategies to explore right now if you want to go "further than HD." The "4K and MP4" hallmark of distinction is best explored, meaning that the high-resolution files would play back with significant quality fluctuations on streaming networks like YouTube. Although the effect isn't striking, it is apparent. A greater depth of field, on the other hand, will aid in maintaining the purity of your video, as focusing defects are more visible at such high resolutions.
If you actually desire full authority over your movies, VideoHunter is also strongly advisable. The app preferences enable you fine-grained control over your graphic, allowing you to get the video precisely how you want it.
Output features like 4K resolution and MP4 format are effective as they are compatible with an increasing number of media devices.
You May Also Like: [2021 Selective] 8 BEST 4K Video Downloader for Windows/Mac
# How do you decide between online video downloaders and desktop programs when it comes to downloading internet music and videos?
When it comes to downloading music and videos, a stable process can always ensure good results. As I tested downloading a music video from YouTube, the pace of VideoHunter is smooth. The program quickly resolves video URLs and generates download possibilities. Unlike downloading with an online downloader, the entire process on VideoHunter is direct and easy. It doesn't have any annoying pop-up ads or require you to switch through tabs.
But also be noticed that the speed is determined on the state of your network as well; if the network is steady, the URL analysis and download speed can be swift.
Additionally, because desktop computers have become the industry standard for showing multimedia information, they contain higher-definition visuals. Before using a downloader software, you may analyze all possible combinations such as the original quality of your source videos, your display resolution, and graphic cards to create an ideal output video for playback.
Besides, with a desktop downloader, you can specify the download format, such as MP4, WEBM, or MP3, as well as the download standard, such as 4K, 1080p, 720p, 480p and etc. But an online downloader cannot always provide a variety of options, neither does it have the multiple downloads feature. Therefore, always opt for a desktop downloader unless you don't frequently need downloading music or videos.
# Conclusion
VideoHunter is a straightforward program that lets you save web video and audio for later viewing and listening. It has enough functionality to meet most basic demands, and the services are dependable. Don't worry if you don't know much about computers; the program's abilities are easy. As a result, for many people, VideoHunter can be a very quick and easy internet video downloader. You are welcome to give it a go.
You May Like:
How to Download Vevo Videos [Step-by-step Guide]
Top 1 VLive Video Downloader - Download Your Favorites with Ease