For many music lovers, when you extremely like some songs, you probably desire to download music videos as personal collections to watch back whenever you want offline. However, not all streaming platforms offer music download services. In other words, to download music videos offline as MP3 or MP4 independent files, you need extra help.
Hence, this blog will introduce some sites and tools that are available for you to freely download music videos in HD quality for keeping offline. Now, grasp them and select one to use if you need help!
CONTENT 7 Most Popular Sites to Download Music Videos 3 Best Music Video Downloaders to Download Music Videos FAQ about Music Video Websites
7 Most Popular Sites to Download Music Videos
Actually, there are many online sites providing music videos of various categories, and they also offer a download function to let you download music videos you like for collecting offline. Here, we have brought the 7 most popular music video sites to you. Browse more resources on them right away!
1. YouTube
YouTube is the largest video-sharing platform in the world. When artists release a new single, they also upload their music videos on YouTube. Today, YouTube is also equipped with the official download function for YouTube Premium subscribers. With a large music video library and high video quality, YouTube is obviously the top 1 site to watch and download music videos, especially YouTube's Vevo channel (and don't forget YouTube Music). Also, all these music videos are available to stream online for free! You can enjoy them without paying a penny on the platform!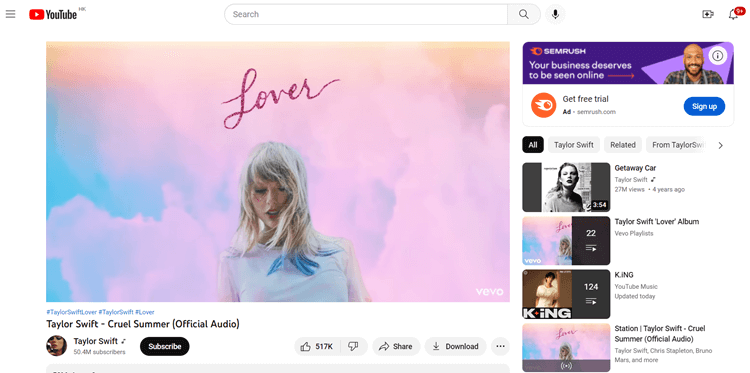 2. Vimeo
Another recommended free music video streaming site is Vimeo, an American video-sharing service. It has an incredible collection of music videos to view, plus ones you've probably never seen anywhere else. Its filters for selecting music videos are very detailed, and you can view them by upload date, alphabetical order, popularity or duration, etc. Vimeo not only has a music channel, but also offers a dedicated Live Music and Music Documentary category where you can enjoy various latest and interesting music videos.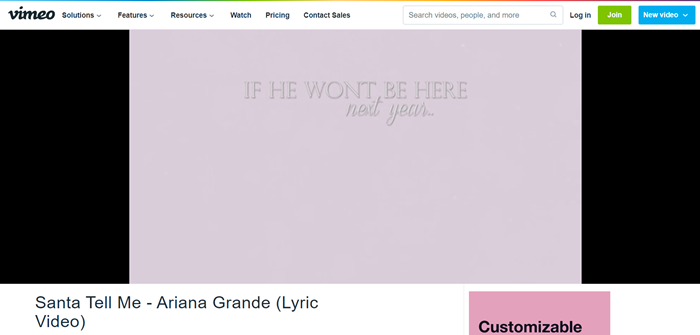 3. Billboard
Want to get the latest music videos but don't know what songs to listen to recently? Billboard is a free music video site that can help you. It has established various charts, and you can find songs that suit your taste on the weekly list or the BillBoard HOT 100 list, making it convenient for you to listen to the latest music and watch their music videos immediately!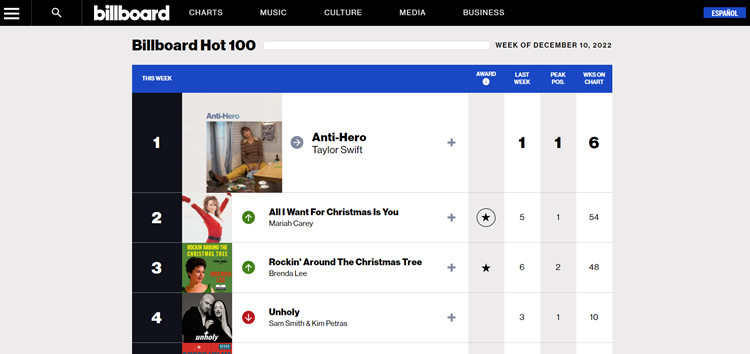 Bonus: For music websites that don't offer download options like Billboard, you can turn to video downloaders. Check this article: 6 Best Any Video Downloaders - Download Videos from Any Site.

4. Yahoo Music
Yahoo Music is also another great site for free music videos, including music videos of performances and live videos from music festivals and events. It is designed with an intuitive interface with a clear category navigation menu and search bar, enabling you to quickly find your favorite music videos with simple clicks. On Yahoo Music, you are able to enjoy an easy process to browse and discover more music videos!
5. Dailymotion
To discover more latest and trending music videos, Dailymotion is also a free site with countless resources. It mainly provides 4 categories (News, Sports, Entertainment, and Music). Simply navigate to the Music section and you can discover the latest music and videos to stream. To find your desired one, the top search bar is always standing to help. You are able to enjoy a high-resolution streaming experience on Dailymotion.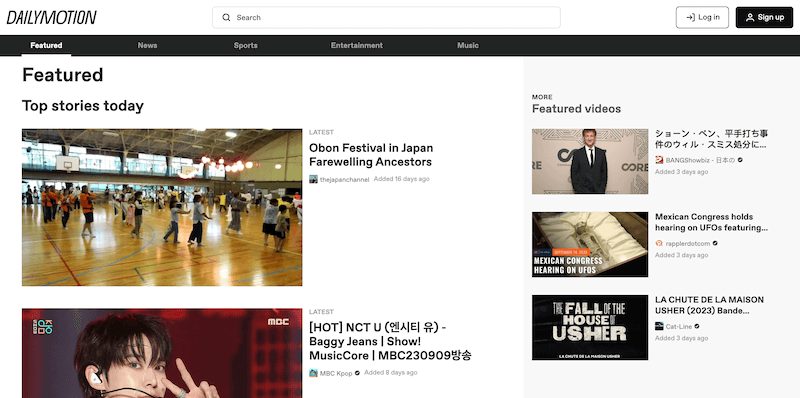 6. MTV Music
MTV Music is an extremely perfect site for music video lovers, too. It not only offers the latest released music videos you can discover and enjoy, but also lots of music documentaries available to stream. This free music website offers various music video clips for entertainment.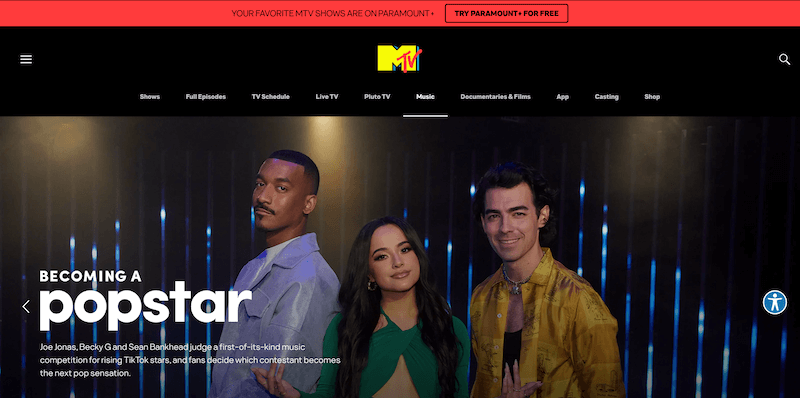 7. Last.fm
If you desire to grasp all the music videos of your favorite artists, then you should not miss Last.fm. This free music video site enables you to watch top tracks around the globe or songs loved by the most audiences. You can also find your favorite artists easily on the site and enjoy the music video in HD. For music lovers, Last.fm is no doubt a nice site for music enjoyment.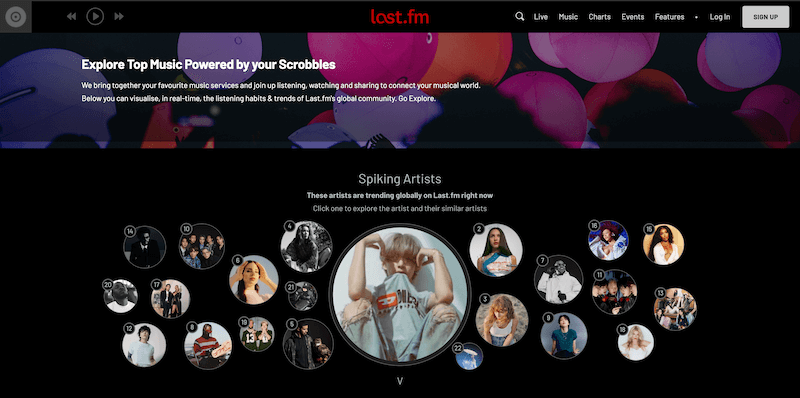 3 Best Music Video Downloaders to Download Music Videos
Despite that these great sites enable you to browse and access countless music videos, they might not offer download options or charge for this feature. In this case, you can also save your favorites quickly and easily with music video downloaders. Here are the 3 best 1080p music video downloaders available for you to download music videos for preserving as personal collections offline. Then you are able to stream them at any time! Now, let's begin with the most professional one - VideoHunter.
1. VideoHunter
VideoHunter is a top-notch music video downloader. It can download music videos from a variety of websites, including Soundcloud, Snapchat, YouTube, Vimeo, Dailymotion, and others. No matter how many music videos you want to save offline, the software can download music videos up to 6X faster. Moreover, the downloaded music videos are directly saved to your PC/Mac's local folder. See below to find out how it excels in music video downloads.
Tips: VideoHunter is a powerful video downloader and can download videos more than just music videos. For more powerful features, check this post: VideoHunter Review – The Best Online Video Downloader.

Attractive Features of VideoHunter
Download music videos, live music videos, and more with one click.
Download playlists and channels from YouTube, SoundCloud, and more. Keep your favorite music videos forever.
Download and merge lyrics with music videos.
Convert music video to MP3 audio for ringtones or background music.
Download music videos as video or audio in original quality, up to 8K for video and 320kbps for audio.
How to Download Music Videos from YouTube
VideoHunter takes only very simple steps to download music videos from web pages. It also can extract audio from the videos and download it as MP3 files at the best 320kbps. This brief guide will show you how to use VideoHunter to download music videos from YouTube without YouTube Premium.
STEP 1. Launch VideoHunter on desktop. For new users, you are required to register a VideoHunter account to log in to the downloader. Once you finish the registration, you will download 3 music videos per day for free.
STEP 2. Then, navigate to YouTube and access the music video you like. Copy the link of the YouTube music video, go back to VideoHunter, and paste the link to the frame bar. Next, hit the "Analyze" icon.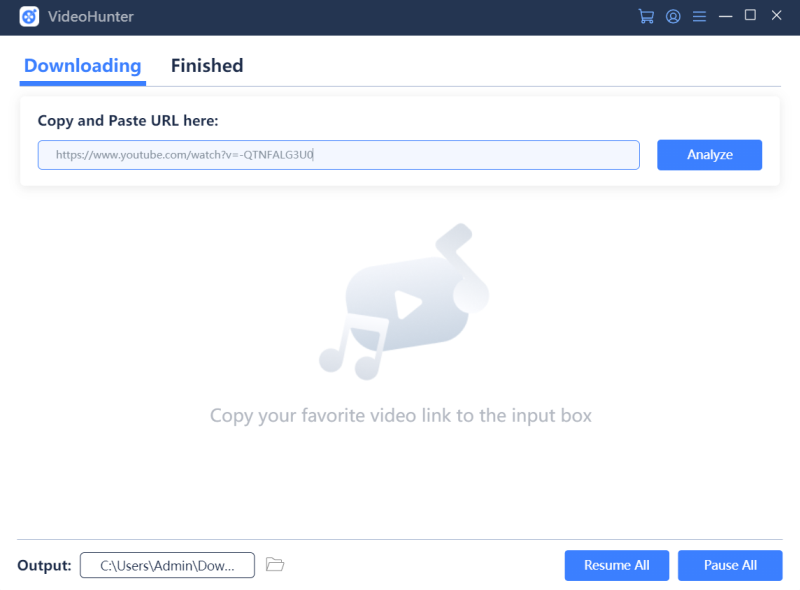 NOTE: VideoHunter also downloads a YouTube channel or a whole music video playlist. Simply copy the playlist URL then paste it to VideoHunter. Then add all the music videos to the converting playlist, and the downloader will download them at once.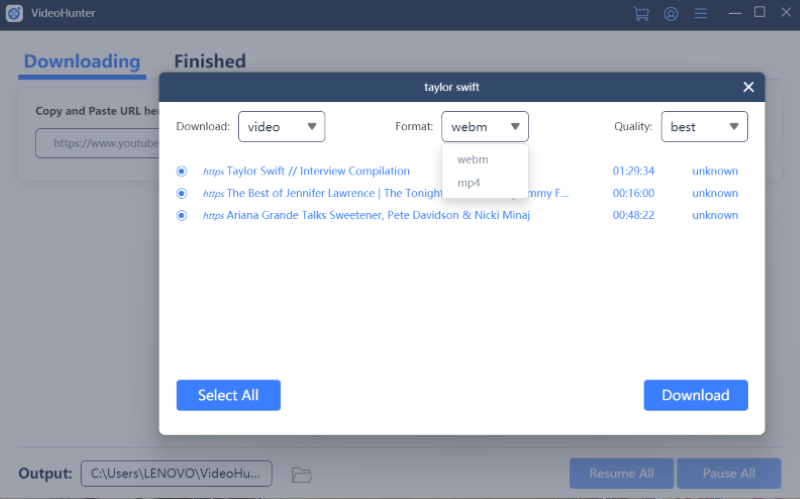 STEP 3. When the output choices pop up, simply select the format and quality you prefer. If the YouTube music video also contains lyrics, VideoHunter will automatically download subtitles from YouTube. Then, hit the "Download" button, and VideoHunter will start downloading music videos from YouTube.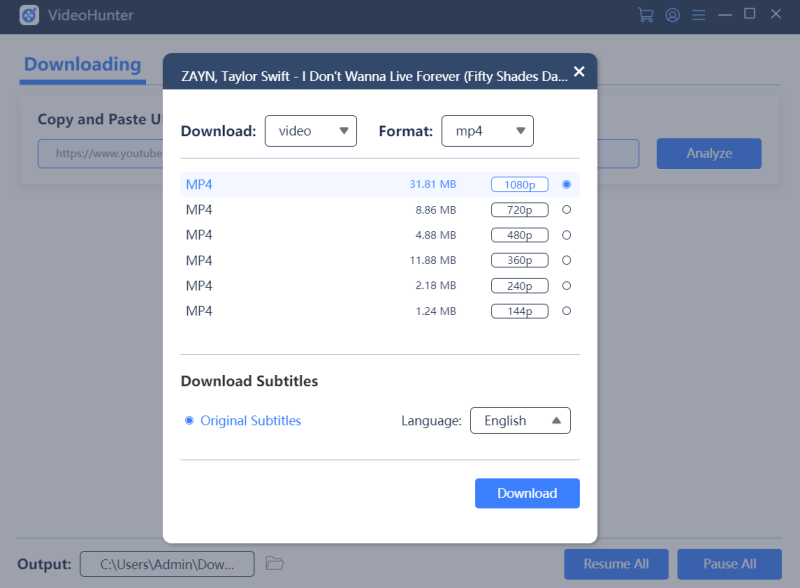 2. KeepVid.to
Although KeepVid.t is a web-based video downloader, it is still considered quite a good site to download music videos from multiple video streaming sites. In addition to pasting the video URL into the blank box, it also allows direct search of video keywords to find and download music videos. Meanwhile, it offers great resolutions to download HD music videos entirely for free! For many users, KeepVid.to has been the best site for free music downloads!
Related Reading: Top 5 KeepVid Alternatives to Download Online Videos
STEP 1. Click the link above to visit Keepvid.

STEP 2. Go to stream a music video and copy the URL of the music video, or you can directly enter keywords.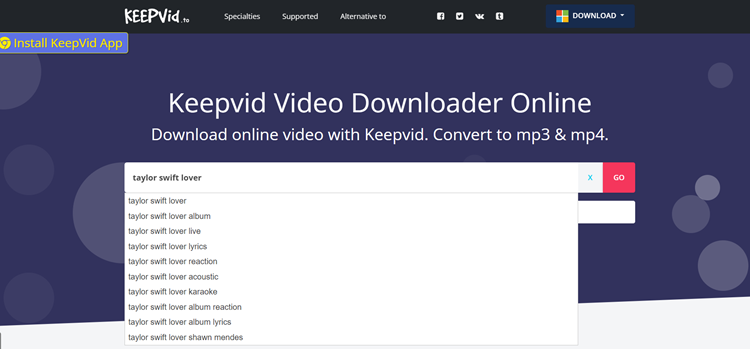 STEP 3. Then, there are a lot of related videos. Click on the music video you need. Choose the output quality you need and download the music video.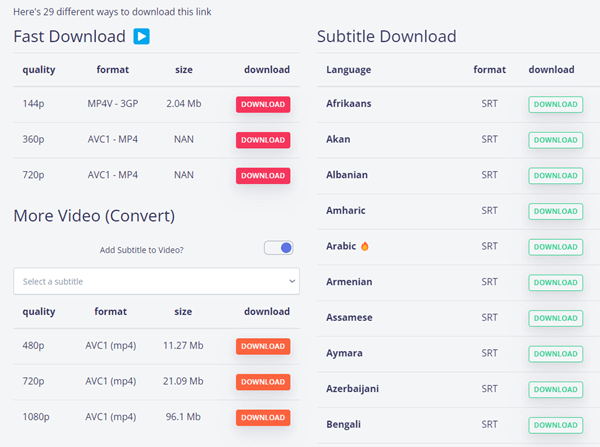 3. VideoHunter for Android
For Android users, VideoHunter for Android also delivers outstanding performance on downloading music videos in original quality from a variety of sites offline. This Android apk is completely free to install and use. It offers HD options to directly save the downloads on an Android SD card for free, enabling you to collect all your favorite music videos.
Features of VideoHunter for Android
Download music videos from common music sites;
Up to 8K resolution supported;
Download music videos from playlists in batches at a quick speed;
Built-in search function available to browse any music video you like with one click;
How to Download Free Music Videos on Android Phone
Now, also grasp how to use this best downloader app for Android to save music videos on your Android phone as local collections:
STEP 1. Install VideoHunter for Android and open it on your Android device.
STEP 2. Search for the music video you like directly with the built-in browser. Or you can directly copy and paste the video link to download it exactly.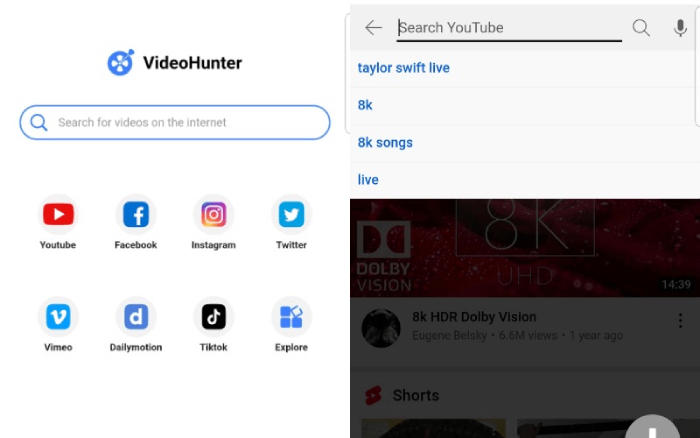 STEP 3. Once you are on the music video page, directly tap the download icon floating aside, and VideoHunter for Android will detect and download the music video for you.
STEP 4. When the output choices pop up, simply select your desired format and quality option, then click "Download" to save it offline right away.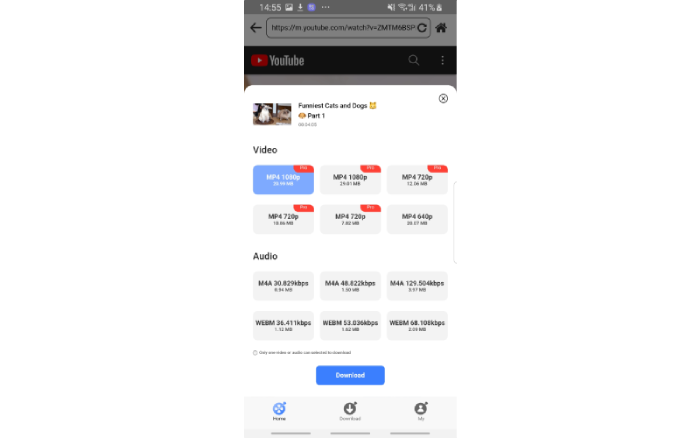 FAQ about Music Video Websites
Q1: What is the best site to download music for free?
When you find that the music video streaming platforms are not equipped with any download option to save them offline, you can turn to some free music downloading sites to download free music without installing extra software. Here are 2 popular ones for you to select:
ssyoutube - An HD music downloading site for saving music and videos for free.
DownloadIt - A free music downloading site to download music and music videos from common sites like YouTube, Facebook, and Instagram in MP4, MP3, M4A, and other formats.
Q2: How to download music from music videos to MP3?
If you want to download music videos to MP3 and set music as ringtones or edit them, you can use VideoHunter and follow the quick guide below to download music from music videos to MP3 files:
STEP 1. When you copy the URL of the music video you desire to download, turn to VideoHunter and paste it into the frame bar.
STEP 2. Click the "Analyze" icon, and VideoHunter will start the conversion. Just in seconds, output options for audio quality and format will pop up for you to select.
STEP 3. Select MP3 as the output format, and also choose the audio quality you need (the best option reaches 320kbps maximum). Then just hit the "Download" icon and the music will be downloaded as an MP3 file.
Tips: check this article for different methods to convert YouTube videos to MP3 on PC and Mobile.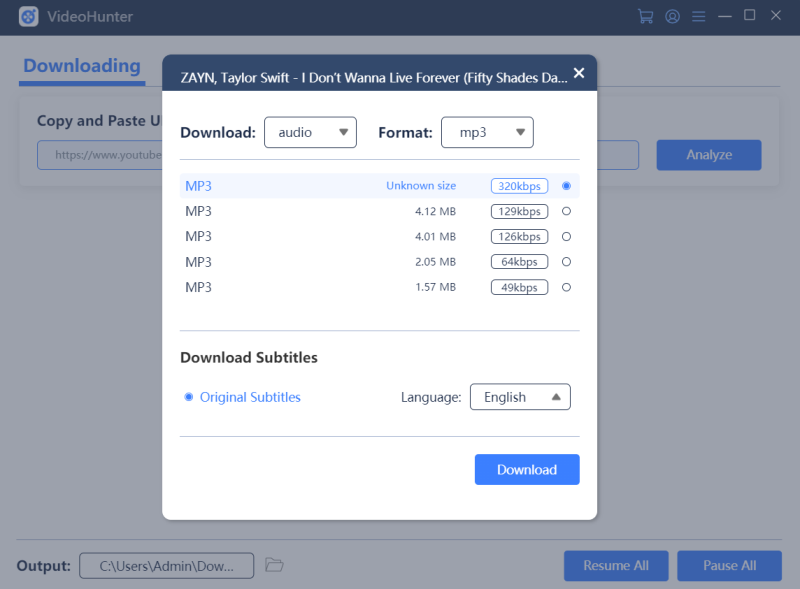 Q3: How to choose the best music download service?
When keeping your favorite music videos in HD offline, you may want to use the best music download service to save them offline. Here are some tips below to help you select the best music download service:
Optional quality available: An excellent music video downloader will give you several output video quality options, which can reach 1080p, 2K, 4K, or even 8K in certain conditions.
Fast downloading speed: Fast speed is an important factor you might care about, especially when you have batches of music videos to save.
High compatibility with various sites: You probably will watch music videos on different sites. So if the video downloader can grasp music videos from these sites, you can save your favorites easily.
Batch download feature: When a music video downloader provides the batch download option, you won't have to wait for each video to download one by one, saving you a lot of time. If you often watch music videos on YouTube, then the downloader that could download YouTube playlists would be the best.
Conclusion
This article provides you with some of the best music video sharing and downloading sites where you can enjoy watching and downloading music videos of your favorite songs. In addition, you can also take advantage of the 3 different music video downloaders recommended in this article, especially VideoHunter and VideoHunter for Android to freely download music videos and save them on your computer and phone.